Flower Window Boxes, Inc. is Introducing a New Low Maintenance Cedar Window Box Reinforced With a PVC Core in 2023 for the Emerging Farmhouse Trend
Press Release
•
Jan 11, 2023
PVC-Reinforced Cedar Window Boxes and Planters Combine Low Maintenance and the Farmhouse Trend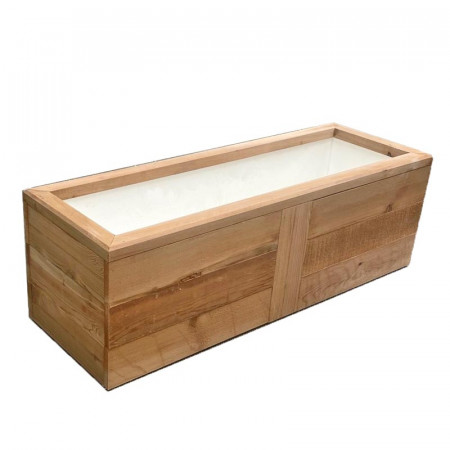 BALL GROUND, Ga., January 11, 2023 (Newswire.com) - Flower Window Boxes, Inc. is introducing a new cedar window boxes and planters line with a reinforced PVC core that finally combines the beauty of red western cedar with the longevity of PVC. A typical wooden window box, flower box, or planter will generally last approximately 3-5 years, and this is only if proper lining, sealing, and maintenance is done each year. One solution to this problem has been using woods like cedar or cypress, which have a natural resistance to bugs and rotting and generally add a couple more years of life to the containers. Despite cedar's reputation as rot-resistant, direct contact with water, soil, flowers, and plants will still result in sooner-than-desired decay. At Flower Window Boxes, Inc., they have attacked this problem from the inside of the box, where soil is in direct contact and the majority of rotting happens, by reinforcing the box with a PVC, no-rot inner core. This allows the plants, soil, and flowers to sit in direct contact with a waterproof and rotproof surface while using the cedar as more of an exterior veneer for the look of the box.
"The time to do this is long overdue. We have been manufacturing PVC window boxes for the last 14 years, and our motto has always been no rot, lifetime guarantee. For this reason, we were always hesitant to introduce cedar or other woods into our product line. The emerging farmhouse trend, however, has shown us that there is an appetite for cedar and other high-quality wood products on the outside of people's homes, and so we felt it was time to engineer a new cedar window box line that would incorporate both the beauty and trendiness of cedar with the quality and longevity of PVC. We call our new design the Farmhouse window box," says Matt Buquoi, owner of Flower Window Boxes.
The new line of cedar window boxes will be available on the website in sizes ranging from 24" long to 120" long, with all sizes in between available to be custom-made. In addition to custom window boxes, they also offer over a dozen different designs and styles of PVC window boxes for customers, available in 14 different standard sizes ready to order right off the website. They will also be offering a line of freestanding cedar planter boxes as well, and these outdoor planters will be available in long rectangular planter lengths of all sizes to fit almost any space. All of the flower boxes will feature as an option their patented reservoir systems that turn any of their boxes into self-watering window boxes.
Flower Window Boxes, Inc. is not just a window box and planter company. They have morphed over the past five years into more of a curb appeal company, and they have an entire cedar product line of decorative gables, brackets, corbels, exterior shutters, mantels, and more. Cedar architectural accents on the exterior of homes have become a very popular trend during the farmhouse craze, especially here in Atlanta, Georgia. This new product line is the first major new product since they released their Forever Shutters composite PVC shutter product line a few years ago, and they are super excited by the positive response they have already gotten back from their customers online.
Flower Window Boxes, Inc. has been featured on shows such as HGTV, The Today Show, Ask This Old House, Renovation Island, and more.
Source: Flower Window Boxes, Inc.
Related Media