Flow Waterjet Repurposes Operations to Produce High-Grade Face Shields to Help Mitigate Spread of COVID-19
Press Release
•
updated: Apr 17, 2020
Company to Produce 50,000 Face Shields Per Week By End of April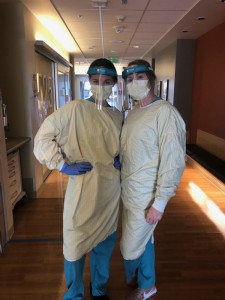 KENT, Wash., April 17, 2020 (Newswire.com) - ​​​Flow International Corporation, the world's leading developer and manufacturer of ultrahigh-pressure waterjet cutting systems, has repurposed its operations to produce face shields for medical workers, first responders and workers in essential businesses to help reduce the spread of COVID-19. The company is ramping production rapidly to where it will be producing more than 50,000 units per week by the end of this month. Flow does not expect to make a profit from this effort.
Flow's face shields are constructed robustly for multiple use and cleaning primarily of high-grade Polyethylene Terephthalate modified with Glycol (PETG), a material commonly used in the manufacture of FDA-approved face shields, along with hypoallergenic foam padding that rests against the user's forehead and an elastic band for "one size fits all" simplicity and comfort.
"The advanced technology of Flow's waterjet systems allows us to cut any material to the most precise specifications, quickly and efficiently," said the company's Senior Technology Fellow and holder of over 100 U.S. and worldwide waterjet patents, Dr. Mohamed Hashish. "The unprecedented need for face shields was an easy transition for us because of our passionate associates, global access to the highest-quality materials, our on-site precision cutting and assembly, and shipping from our headquarters facilities here in Kent and from our operations center in Baxter Springs, Kansas."
Flow has already delivered face shields locally to dozens of medical facilities and first responders and is receiving new orders daily from around the country. Flow's face shields are available online for direct purchase and for third parties who wish to donate funds for production and drop shipment of face shields to recipients of their choice at www.flowwaterjet.com and www.flowforthefrontline.com. In addition, the company is making its technical specifications and detailed cutting and assembly instructions available to waterjet operators everywhere via download from the same website.
"Our priority is to be part of the solution during this extraordinarily difficult time," said Brian Sherick, Flow's Vice President of Global Sales. "That's why we decided to make all documentation needed for any waterjet operator to produce the highest-quality face shields available, as efficiently as possible, so they can get to the people who need them the most."
"We are in full production mode and will be making over 50,000 shields per week before the end of April," said Sherick, "and with a customer base operating over 7,500 systems in North American alone, our ability to scale up quickly to meet demand through our broad network is significant."
Orders can also be placed via the aforementioned websites, and as follows:
Dora Cortes
253-246-3205
programs@flowcorp.com
About Flow International
Flow International Corporation, a SHAPE Technologies Group company, is a leading ultrahigh-pressure waterjet system solutions provider. As the world leader in waterjet technology, the company is committed to delivering high-performance, innovative systems and world-class customer experience for a broad array of applications that serve a diverse customer base. For more information, visit www.FlowWaterjet.com.
Media Contact:
Steve Rosenblum
Senior Director, Global Marketing and Communications
Flow International
206-673-1101
srosenblum@flowcorp.com
Source: Flow International Corporation
Additional Links