Florida Small Business Borrowing Stalls in December - PayNet
Press Release
•
updated: Feb 15, 2018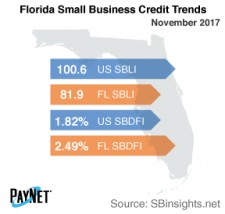 Jacksonville, FL, February 15, 2018 (Newswire.com) - In December 2017, Florida's small firms borrowed comparably to last month, according to data released by PayNet. Of the 18 major industries, 10 increased and 7 dropped in Florida.
Registering at 82.3, Florida's PayNet Small Business Lending Index (SBLI) performed comparably last month's state level, but was 18.0% lower than this month's national SBLI level (100.3). The index is basically unchanged from a year ago.
The three industries with the greatest improvement in lending activity over the past year in Florida were Accommodation and Food Services (22.2%); Admin & Support and Waste Management & Remediation Services (19.6%); and Information (12.3%). Nationally, Accommodation and Food Services grew by 6.4% year over year.
PayNet's Small Business Default Index (SBDFI) for Florida ranked 49th nationally at 2.53%. Following a similar value to last month, Florida's SBDFI was 70 basis points above the national SBDFI level of 1.83%. Over the last year, Florida's SBDFI climbed 8 basis points, while the national SBDFI has remained flat.
"With minimal improvement in borrowing and relatively high defaults, the small business economy in Florida is underperforming the rest of the country," explains William Phelan, president of PayNet.
Source: PayNet
Related Media