Float Productions Begins the Production of Bam Bam's Short Film Maria Canje
Press Release
•
Sep 14, 2016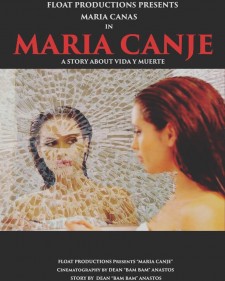 New York, NY, September 14, 2016 (Newswire.com) - Financial Publication announces that ​​​​​Float Productions, a subsidiary of Mortgage Float, begins the production for the short film project Maria Canje with Ricky Brava as the director.
Maria Canje is a story written by the writer, filmmaker, entrepreneur and brain cancer activist Dean Anastos, also known as Bam Bam. Bam Bam recently lost his mother to glioblastoma, which halted the project as he cared for his mother for nine grueling months. "My business life and personal life came to a screeching halt as I went from running a mortgage trading exchange and writing screenplays to being a 24 / 7 caregiver for my dying mother," said Bam Bam, "It was an awful but, ironically, a very rewarding experience," he continued, "I learned a lot from it and made many new friends who shared a similar experience."
"Sometimes God abandons us and puts us in a painful place and we don't understand why, but there comes a time where we begin to understand why he did and we become the person we wish we had in his absence..."

Bam Bam, Filmmaker
Bam Bam made use of his talents to further bring awareness to this dreaded disease, which affects 13,000 new families every year. He made several films that highlight the experience that brain cancer patients and families experience. He also runs the website called www.bambamcancer.com and a page on Facebook called No More that is a collection of his writings that were inspired by his care giving experience.
His most popular film, "The Assignment" was viewed almost 100,000 times. "I never thought that my films and writings would have touched so many lives. I wrote and produced the films as a way to cope with the nightmare I was experiencing at the time."
Bam Bam also created a documentary that is geared to educating the public on this dreaded disease. The name of the documentary is "Awareness".
"It is the first of several documentaries I intend to make to bring awareness to this disease. When I get the time, I would like to personally meet some of the families that are currently enduring this nightmare and document their story for all the world to see," Bam Bam noted.
My heart goes out to all the families out there going through this awful nightmare and I will do everything in my power to bring awareness in any way I can.
One of the lines in the short film Maria Canje was inspired by his care giving experience. "Sometimes God abandons us and puts us in a painful place and we don't understand why, but there comes a time where we begin to understand why he did and we become the person we wish we had in his absence..."
Although the plot of the film is very different than the care giving experience, the sense of metaphoric divine abandonment and turning that into personal strength for each respective scenario is nearly identical, aside from the moral implications of the film.
"One thing I learned, is that no matter how a bad of an experience something may have been, you can always find something positive in it and turn it into something meaningful," Bam Bam declared.
"I am very happy with the cast for the film, especially the lead role Maria Canas. Maria Canas is a strikingly beautiful woman from Venezuela who studies at the Stella Adler Studio of Acting. I feel she has a great future ahead of her and I can sense her ambition and determination. She is a lot of fun to work with. I look forward to working with her on many projects in the future," he continued.
Another notable actor in the film is Magno Gama. Magno Gama is a black belt in Jiu Jitsu who trained for over 18 years under Renzo Gracie and operates a school in Astoria, Queens. "We are very excited to have Magno Gama on board, I think he looks fantastic on camera and he is perfect for the part he is playing. Fantastic casting by Bam Bam. Bam Bam is such a genius is so many fields, he is truly amazing. I am glad that I get to work with him closely on many projects, you can always learn something from him," said Ricky Brava.
If the short film is a success in the upcoming film festivals, we will explore the possibility of turning it into a feature," Bam Bam mentioned.
Bam Bam also mentioned that there are other feature films on the drawing board, notably one in the horror genre that entails an Native American urban legend he conjured up that has been reigning terror in rural areas since the colonial times.
"I have always been in the financial industry in one form or another but there is nothing quite like film making. I just love storytelling." Bam Bam said gleefully.
You can visit them their production website at www.floatproductions.us and at their financial site www.mortgagefloat.com
Source: Float Productions
Related Media
Tags
Additional Links