Fleetwash Unveils Formation of Parent Company to Reflect Future Growth and Innovation
Press Release
•
May 24, 2023
Introducing: Kept Companies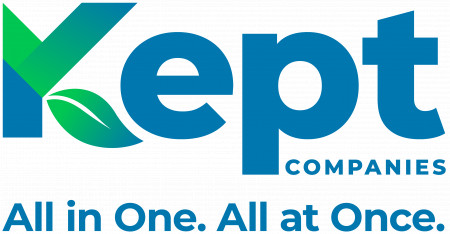 FAIRFIELD, N.J., May 24, 2023 (Newswire.com) - Fleetwash, a leading nationwide company for full facility maintenance, is thrilled to announce its establishment of its parent company, Kept Companies. This strategic move, along with a comprehensive rebranding initiative, is aimed to propel the company into a new era of growth, innovation, and customer-centricity. The transformation reflects the company's commitment to enhancing its position as a market leader and strengthen its foundation for growth in the facility maintenance industry.
Kept Companies will serve as the umbrella brand for Fleetwash and its subsidiaries. Kept Companies is now home to nine leading brands that offer unique expert-level service: Fleetwash, Fleet Clean, Krystal Klean, Climco Mechanical (previously Welker), EnviroClean (previously SprayWash), Grease Pro, GlideRite, SunScrub, and MaintainThat (previously Eco Sweep). Under the new parent brand, each subsidiary received a new brand identity and brand attributes, in keeping with Kept's overarching brand look and values. These changes align with Kept's evolving strategic direction and signal the company's dedication to meeting the ever-changing needs of its customers while holding true to the expert-level services it has developed over the past 50 years.
"For the past 50 years, we've been operating under the company name Fleetwash, and for many years, this name worked perfectly to describe the service we provided: washing fleets of trucks. That began to change in the early 2000s, when we expanded to offer facility management services. Since then, we've multiplied our service offerings to go far beyond truck washing. This change is an exciting one for the future of the company as a whole," said Jerry DiGiovanni, President of Kept.
Furthermore, with the consolidation under one parent entity, there is a strong emphasis on enhancing the overall customer experience. The leaders of Kept Companies have invested significant resources in developing a new intuitive and user-friendly website, ensuring seamless navigation and providing customers with easy access to relevant information, products, and support.
The restructuring efforts of Fleetwash, now under Kept Companies, have been met with widespread enthusiasm internally. Employees view the initiative as the company's commitment to innovation, excellence, and adaptability while still holding onto the deep rooted services the company was built on.
About Kept
Kept is the parent company of nine leading facility maintenance brands. It started as a single mobile washing business, and today, offers a comprehensive suite of services, with over thirteen hundred skilled employees, and one thousand fully-equipped vehicles.
Since the beginning, hard work and perseverance have fueled the company's success. The company's continued investments in sustainability, innovation, and technology allow each of the Kept brands to provide the best service, at the best possible cost.
Source: Kept Companies