Flat 12 Gallery Joins Pennzoil to Auction Customized 1963 Volvo for Charity at Barrett-Jackson Scottsdale
The #V06 will be auctioned off to benefit the SEMA Memorial Scholarship Fund
Press Release
-
updated: Jan 7, 2020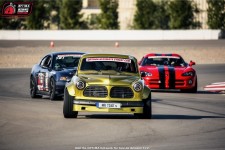 DALLAS, January 7, 2020 (Newswire.com) - Jeff Allen of Flat 12 Gallery, as seen on the CNBC television show "The Car Chasers" & podcast "Skidmarks Show," is selling his custom-built 1963 Volvo known as the #V06 for charity. With the help of Shell and Pennzoil, the one-of-a-kind vehicle morphed a 1963 Volvo 122 Amazon with a 2013 Grand Sport Corvette to create the #V06. The #V06, powered by Pennzoil Synthetics, packs a 600 horsepower punch from a Lingenfelter Performance Built LS7.
The Volvo will cross the auction block during Scottsdale Auction Week at Barrett-Jackson, the world's greatest collector car auction on Friday, Jan. 17 at Charity Lot Number #3005 at approximately 7:30 p.m. All of the proceeds will benefit the SEMA Memorial Scholarship Fund which offers financial assistance to students pursuing an automotive career.
The team has shown that #TheProofIsInThePennzoil by campaigning the #V06 in a variety of events before it crosses the Barrett-Jackson auction block this month. The awards started with the Golden Ticket to the Ultimate Street Car Invitational at the SEMA Show where it hit the track in an Autocross, Hot Lap Challenge and Speed Stop. Afterwards, the #V06 tackled the Las Vegas streets in a Road Rally to winning the Show-N-Shine Award for Best Non-Domestic at LSFest West where the Volvo Drag Raced, maneuvered a Road Course, Autocrossed and completed the infamous 3S Challenge. The Volvo was also featured in the blockbuster franchise "Fast & Furious" in the recent "Hobbs and Shaw" movie.
Some of the one-of-a-kind build features include: SEMA Garage Custom 3D Printed Rear Spoiler - LS7 7.0L Lingenfelter Performance Engine - Customized 2013 Corvette Driveline - Forgeline GTD-5 Monoblock Wheels - BAER Brakes - Clinched Flares - Recaro Customized Seats - Takata 5 Point Seat Belts - BASF B67 Austin Yellow Paint - Quiet Ride Solutions Insulation - Tartan Trunk and Headliner
"The #V06 is a vehicle build is unlike anything we've done before," said Jeff Allen. "It is the type of car no-one can pass by without taking notice, but it also represents an exciting opportunity to invest in the next generation of young students pursuing an automotive career."
"Shell and Pennzoil are proud to be a part of such an inspiring build with Jeff Allen and the Flat 12 crew," said Patty Lanning, Vice President, North America Marketing, Shell Lubricants. "It's been an incredible journey for the V06, from its debut at the Shell 'Pioneering Performance' experience at the 2018 SEMA Show, to stops at automotive events across the country and finally rolling across the block this evening. We're grateful to work with incredible partners such as Flat 12 and Barrett Jackson to generate funds for the SEMA Memorial Scholarship Fund to help young people pursue automotive careers."
About Jeff Allen
Jeff Allen is the host of "Skidmarks Show" the top 10 All-Time Best Selling Automotive Podcast on iTunes and was the host of 3 seasons of CNBC's "The Car Chasers". Owner of Flat 12 Gallery, a boutique collectible and highline dealership and build facility in Dallas, TX that has had pass through its doors 100s of unique builds, movie cars and celebrity-owned rides. Jeff has had designed some of the most recognizable vehicles from corporate builds to one of a kind showpieces to race cars. flat12Gallery.com
About SEMA Memorial Scholarship Fund
The SEMA Memorial Scholarship program offers financial assistance of up to $5,000 to help foster the next generation of automotive aftermarket industry leaders and innovators. The fund, a 501(c)(3), is dedicated to activating the next-generation automotive workforce by providing financial support and career resources to students, schools, educators, and programs that benefit the professional development of young professionals enrolled in various high schools, universities, colleges, and/or vocational schools in the United States. Students can apply for the scholarship at sema.org/scholarships. 
About SEMA
SEMA, the Specialty Equipment Market Association founded in 1963, represents the $44.6 billion specialty automotive industry of 6,633 member-companies. It is the authoritative source for research, data, trends and market information for the specialty auto parts industry. The industry provides appearance, performance, comfort, convenience and technology products for passenger and recreational vehicles. For more information, contact SEMA at 1575 S. Valley Vista Dr., Diamond Bar, CA 91765, tel: 909-610-2030, or visit www.sema.org.
About Pennzoil
About Pennzoil
Pennzoil is a different kind of motor oil company. We're driven by a passion for innovation and an ambition to make the most technologically advanced, highest performing motor oils on the market. That's why Pennzoil spent 40 years and developed over 3,500 process patents creating the first motor oil from natural gas. The Pennzoil patented gas-to-liquid technology is a revolutionary process that converts natural gas into high quality full synthetic base oil. Base oil made from natural gas is 99.5% free from impurities, making it purer than crude. Pennzoil Synthetic motor oils made from natural gas provide your engine with unbeatable protection. The Proof is in the Pennzoil. 
Pennzoil is the most trusted motor oil brand in America.* The full line of Pennzoil quality products includes Pennzoil Platinum® Full Synthetic motor oil, Pennzoil Ultra Platinum™ Full Synthetic motor oil, Pennzoil Platinum® High Mileage Full Synthetic motor oil, Pennzoil Platinum®Euro Full Synthetic motor oil, Pennzoil Start Stop Protection™, Pennzoil Extended Care™, Pennzoil Maximum Power™ and Pennzoil Hybrid™, Pennzoil Gold™ motor oil, Pennzoil® High Mileage Vehicle® motor oil, Pennzoil® motor oil, and Pennzoil Marine® engine oil. For more information about the full line of Pennzoil lubricating products, motor oils and filters, please visit www.pennzoil.com. Not just oil. Pennzoil.
*Based on a leading independent research study between April 2013 and December 2018
About The Barrett-Jackson Auction Company
Established in 1971 and headquartered in Scottsdale, Arizona, Barrett-Jackson, The World's Greatest Collector Car Auctions®, is the leader in collector car and automotive lifestyle events, which include authentic automobilia auctions and the sale of high-profile estates and private collections. The company produces auctions in Scottsdale, Arizona; Palm Beach, Florida; at Mohegan Sun in Connecticut; and Las Vegas, Nevada. With broadcast partners MotorTrend (formerly Velocity) and Discovery Channel, Barrett-Jackson features extensive live television coverage, including broadcasts in over 150 countries internationally. Barrett-Jackson also endorses a one-of-a-kind collector car insurance for collector vehicles and other valued belongings. For more information about Barrett-Jackson, visit Barrett-Jackson.com.
Source: Flat 12 Gallery
Share:
---
Categories: Automotive, Celebrities
Tags: #Poweredbypennzoil, Barrett Jackson, Charity, Flat 12 Gallery, Jeff Allen, Jeff Allen Volvo, Pennzoil Volvo, The Car Chasers, Volvo V06
---