Firsthand Account From a Scientologist Responding to the California 'Camp' Fire
Press Release
•
updated: Nov 14, 2018
The Church of Scientology Mission of Chico has set up its yellow Volunteer Ministers tent and VMs are sorting and distributing donated items and helping people cope.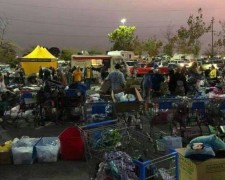 CHICO, Calif., November 14, 2018 (Newswire.com) - Scientology Volunteer Ministers (VMs) responding to the Camp Fire in Northern California are helping firefighters, police and local residents, doing whatever is needed to support the emergency crews and those displaced by the disaster.
The fire destroyed the entire town of Paradise and more than 8,800 structures, some 7,600 of them homes. It is the most destructive fire in California's history with more than 135,000 acres burned. More than 8,000 firefighters are battling the disaster.
Hundreds of people displaced by the fire are camping out at the Walmart parking lot in Chico, where the community has dropped off generous donations of clothes, food and bedding. The Church of Scientology Mission of Chico set up its yellow Volunteer Ministers tent there and VMs are sorting and distributing donated items and helping people cope.
One of the volunteers shared a story on her Facebook of helping someone find his lost driver's license — a vital commodity in times of disaster. Another VM had found the license but didn't know how to find its owner.
"I arrived at the VM tent in the Walmart parking lot this evening. About 5 minutes later I was standing in there alone — food tents to our left and front and racks of clothes to our right. I was watching a man holding on to a folded blanket and clothes. He was dropping items and I was going to assist him. He ended up walking by me towards the parking lot and I thought … that's the guy on the driver's license."
She found the friend who had the license and ran back to return it to the man but lost sight of him.
"When I walked through the row of tents where I last saw him there was no one there. I looked at the license and said 'Daniel?' From the tent to my left I heard, 'Yes?' He came out and I asked him his last name, he gave it to me in full and I said, 'Here. We found your driver's license.' Daniel said, 'You have no idea what and how much that means to me.' I gave him a hug.
"Daniel came by our VM tent about 10 minutes later. He told me he believes he lost his house and that he just bought his tent at Walmart yesterday because last night was so, so cold. He can't find a jacket his size so I told him to go get a good blanket, which he was looking for around the parking lot at donation groups.
"Just then, a lady walked up next to me with a shopping cart and asked where she could donate some blankets and dog food. I turned and grabbed her largest and warmest blanket and then handed it to Daniel.
"Daniel waved at me each time he walked by our tent this evening."
Volunteer Ministers are organizing supplies, handing out water and face masks and delivered 1,500 meals to victims yesterday.
"There is urgent need for help," says the Scientology Volunteer Ministers Disaster Response Coordinator, who has put out a call for anyone trained as a Volunteer Minister to contact their Scientology church or VM headquarters at (800) help4yu.
The Church of Scientology Volunteer Minister program is a religious social service created in the mid-1970s by L. Ron Hubbard. Anyone of any culture or creed may train as a Volunteer Minister and use these tools to help their families and communities. The church provides free online training on the Volunteer Ministers website.
Source: ScientologyNews.org
Related Media