FirstComm and Cynet Partner to Bring Innovative Cybersecurity Platform to Market
Press Release
•
Apr 5, 2022
Cynet and FirstComm join forces to bring Secure XDR (Cybersecurity Platform), the industry's first autonomous breach protection platform for the organization, to the United States market. FirstComm will now offer the Cynet Sensor Fusion technology to its customers, delivering autonomous breach protection with full automation of monitoring and control, attack prevention and detection, and response orchestration.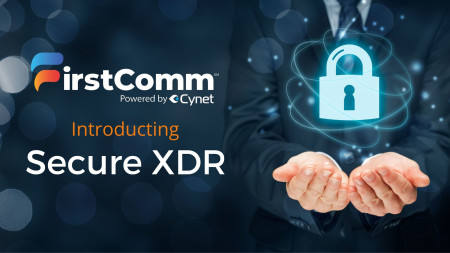 AKRON, Ohio, April 5, 2022 (Newswire.com) - Cynet, pioneers of the autonomous breach protection platform (www.cynet.com), and Firstcomm, leading technology solutions provider of cloud communications, data, voice, and managed security services (www.firstcomm.com), today announced the signing of a managed provider agreement, to deliver FirstComm Secure XDR to the United States market. This partnership promotes the sale of Cynet's autonomous breach protection platform to provide the capabilities necessary for an organization to protect against cyber-attacks. The Secure XDR platform covers small, medium, and enterprise businesses deploying and integrating across thousands of endpoints in hours and provides the fundamental capabilities of NGAV, EDR, UBA, Network Analytics, and Deception Solutions supported by 24/7 services of a team of SOC experts.
Mark Sollenberger, President of FirstComm, stated: "Working with Cynet is an opportunity for us to bring the industry's leading best-in-class security platform to our customers, including resource-constrained organizations. FirstComm Secure XDR gives organizations a consolidated, user-friendly platform to ensure security in today's rapidly changing threatscape. Cynet's automated collection and correlation of activities across the environment results in deep visibility, introducing ease and agility into operations, and giving customers an unmatched level of control over activity within the organization."
"Partnering with FirstComm allows Cynet to bring our platform to the U.S. market in cooperation with one of the region's leading technology solutions providers," said Eyal Gruner, Cynet Co-Founder and CEO. "FirstComm customers are about to experience a new, proactive level of security with Cynet's autonomous breach protection, allowing them to monitor and react to threats, including enacting a wide set of automated remediation capabilities."
About FirstComm
Founded in 1998, FirstComm is a leading technology solutions provider offering cloud communications, data, voice, security, and managed services with unparalleled customer service to over 35,000 businesses across the United States, from high-end cloud communications (UCaaS) to software-defined networking (SD-WAN) and security.
Headquartered in Akron, Ohio, with a 24x7x365 Network Management Center in Chicago, FirstComm is dedicated to pairing effective customer communications with next-generation technology. FirstComm creates solutions to align with its customers' business objectives with built-in scalability to accommodate future needs. Moreover, FirstComm bridges technology with world-class customer service through its operational expertise and a strong focus on the customer experience.
Visit: www.firstcomm.com
About Cynet
Cynet 360 is the world's first Autonomous Breach Protection platform that natively integrates XDR endpoint, user and network attack prevention, and detection capabilities with an incident engine that fully automates investigation and remediation actions, backed by a 24/7 world-class MDR service. End-to-end, fully automated breach protection is now within reach of any organization, regardless of security team size and skill level.
Visit: www.cynet.com
Source: FirstComm