First Dive Shop in Asia to Earn the Certified Autism Center Designation
Press Release
-
updated: Aug 12, 2019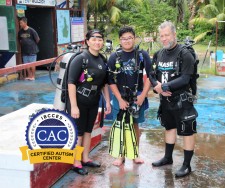 ISKANDAR PUTERI, Malaysia, August 12, 2019 (Newswire.com) - Marshall Scuba Swim and Safety has become the first dive shop in Asia to earn the designation of Certified Autism Center™ (CAC). The CAC designation, granted by the International Board of Credentialing and Continuing Education Standards (IBCCES), means that visitors and families with children who are on the autism spectrum can enjoy the best possible experience that caters to their needs when they're learning to dive.
Marshall Scuba Swim and Safety is in Malaysia, only 10 minutes from the border with Singapore. Achieving this designation complements the long-standing efforts of Marshall's owner and main instructor, Kenneth Tuttle. Kenneth has taught swimming for over three decades. Marshall Scuba and Swim Safety offers all levels of scuba instruction, along with instructor training to work with students on the autism spectrum, as well as those with other cognitive and physical disabilities.
"As a secondary teacher and administrator, I've had the experience of having students with ASD in my classes, as well as working with other teachers who have had ASD and special needs students in their classes. The program was highly enlightening in giving depth to the intricacies of ASD. Even having had prior experience, I found there is huge value in this program," said Kenneth Tuttle, owner and instructor of Marshall Scuba Swim and Safety. "We are thankful to the IBCCES for developing these programs, as the credential and its recognition by the Autism Society provide an inherent level of credibility to our dive shop and our desire to work with this underserved population."
For almost 20 years, IBCCES has been the industry leader in autism training for licensed healthcare professionals and educators around the globe. IBCCES recognized that many individuals with autism, as well as families with children on the autism spectrum, are looking for opportunities to learn new skills in a safe environment. Since many people with autism are drawn to water, learning to scuba dive could be one of those options with additional training for instructors. In response to this need, IBCCES partnered with the Professional Association of Diving Instructors (PADI) to provide evidence-based training and certification to its members.
"We are thrilled to expand the global footprint of PADI Dive Centers that have sought professional training and been granted the CAC designation," said Myron Pincomb, IBCCES Board Chairman. " Marshall Scuba Swim and Safety has blazed a path for other centers in Asia to follow."
IBCCES also created AutismTravel.com, a free online resource for parents that lists destinations, attractions, and organizations that have completed autism-specific training and certification. Each organization listed on the site has met Certified Autism Center™ (CAC) requirements.
###
About Marshall Scuba Swim & Safety
Marshall Scuba Swim is a complete dive center and swim academy located in Southern Malaysia, near the city-state of Singapore. With a full range of diving courses, Marshall has particular expertise in tech diving and Instructor Training and has the credentials, training and experience to work with students who have individual needs, such as Autism and disabilities. Through the in-house Swim Academy, we offer swim classes from beginner up to the professional level Swim Teacher.
For additional information, visit www.myscubamarshall.wixsite.com/marshall-scuba-swim
About IBCCES
Delivering The Global Standard For Training and Certification in The Field of Cognitive Disorders – IBCCES provides a series of certifications that empower professionals to be leaders in their field and improve the outcomes for the individuals they serve. These programs are the only training and certification programs endorsed by the largest grassroots autism organization in the world, The Autism Society of America, and recognized around the world as the leading benchmark for training and certification in the areas of autism and other cognitive disorders.
MEDIA CONTACT:
Marshall Scuba Swim and Safety
Kenneth Tuttle, Owner and Instructor
Phone: +60 17 798 0411
Email: marshall.scuba.swim.safety@gmail.com
IBCCES
Meredith Tekin, President
Phone: 904.508.0135 // 904.434.1534
Email: meredith@ibcces.org
Source: IBCCES
Share:
---
Categories: Family Travel
Tags: autism, autism certified, autism friendly, certified autism center, scuba, scuba diving, sensory, sensory friendly, special needs
---