First Batman Comic Sets New Record With $850,000 Sale as Collectibles' Values Soar
Press Release
•
updated: Nov 9, 2020
ComicConnect.com Sets New Batman Sale Record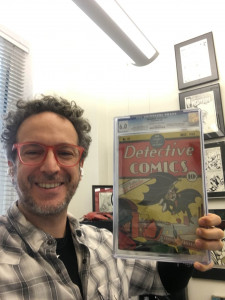 NEW YORK, November 9, 2020 (Newswire.com) - ​Never underestimate the Caped Crusader. Recently, a vintage Batman comic book that sold for 10 cents in 1939 was purchased for $850,000 in a record-breaking transaction. The sale of the Detective Comics #27, which marks Batman's first appearance, was managed by ComicConnect.com, the industry's leading online auction house.
"This is the second-highest sale price ever for a Detective Comics #27," says Vincent Zurzolo, co-owner of ComicConnect, noting "it also set a world record in terms of the comic's grade."
That's because, while most top-selling comic books are in mint, near mint, or very fine condition—i.e., at the upper end of the 10-point CGC grading scale that's the industry standard—this comic is graded 6.0. Nevertheless, it's among the top 15 issues of existing Detective Comics #27.
"While this particular book is very rare and highly sought after, the price also reflects the vast influx of money flowing into collectibles markets across various categories," Zurzolo notes.
Case in point: a 2009 Mike Trout rookie baseball card sold for $3.9 million in August, and an unopened box of 1999 Pokemon first edition trading cards sold for $375,000 in October. Comic values continue to rise as well.
According to Zurzolo, in times of financial uncertainty, collectibles values increase, as interest turns to tangible investments. This certainly held true during the recession of 2009. Emerging from that period, Zurzolo's team earned several Guinness World Records for highest comic sales—including two Action Comics #1 (Superman's first appearance) for $1,000,000 and $1,500,000 and an Amazing Fantasy #15 (Spider-Man's debut) for $1.1 million.
In fact, Detective Comics #27 ranks right up there with Action Comics #1 as the world's most coveted comics.
After DC Comics struck gold with Jerry Siegel and Joe Shuster's Superman character in 1938, the publisher launched a search for its next big win. It found it in 'The Bat-Man,' a superhero created by then-teenager Bob Kane. The character was an immediate hit.
There are fewer than 70 Detective Comics #27 in existence. This particular copy is part of the Rockford pedigree, one of the most important Golden Age comic book collections of the 1990s. The nearly 2,000 comics in the collection were purchased from a small drug store in Rockford, Illinois.
Says Zurzolo, "For comic book collectors and investors, this is a remarkable time. There's every reason to believe that we'll continue to see unprecedented activity in the comics and collectibles markets."
Source: ComicConnect.com
Additional Links