First Animal-Specific Mid-Field MRI in Country Debuts at University Veterinary Specialists
UVS debuts the first pet-specific mid-field strength MRI in the US, 2nd in the world
Press Release
-
updated: Mar 8, 2017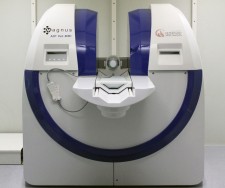 PITTSBURGH, Pa., March 8, 2017 (Newswire.com) - University Veterinary Specialists continues to advance veterinary medicine in Western Pennsylvania with its debut of the first animal-specific mid-field strength MRI in the United States. The Magnus AIP-Vet MRI is only the second of its kind with the first installed in Perth, Australia. A great balance of high quality imaging and affordability.
"University Veterinary Specialists is raising the bar in veterinary medicine with the introduction of this groundbreaking technology. Our pet-specific MRI is the first of its kind in the US, and it's right here in Pittsburgh," said University Veterinary Specialists President Dr. Apryle Horbal.
Animal hospitals providing MRI imaging commonly use pre-owned human MRI machines. The brand new Magnus AIP-Vet MRI is designed exclusively for companion animals using veterinary-specific software.
"The advancements that were utilized when building this MRI are incredible. We are producing images comparable to a high-field machine, but with better affordability and faster, thus safer, scans. The machine is specifically designed for use with pets, and even the table has a special shape to accommodate veterinary patients. There are many upsides to having an MRI performed with this unit," said Chief Medical Officer Dr. Dimitri Brown.
The Magnus MRI uses state-of-the-art electronics and fiber optic cabling to decrease scan times, which leads to a shorter amount of time that an animal needs to be anesthetized. And at only 50dB, the machine is significantly quieter than a high-field MRI, which can reach decibel levels of up to 120 – or the equivalent of being at a live rock concert.
MRI scans from the Magnus MRI at University Veterinary Specialists are priced at just $1,295; roughly half of what a high-field MRI scan costs, with comparable imaging.
About University Veterinary Specialists: University Veterinary Specialists offers small animal 24-hour emergency and trauma care, specialized surgical procedures, advanced internal medicine and oncology, routine and advanced equine dentistry, rehabilitation, and more. Located at 2810 Washington Road McMurray, PA 15317. More information can be found at http://UVSCares.com.
Media Contact: AJ Owen | 315-558-1349 | AJ@UVSCares.com
Source: University Veterinary Specialists
Share:
---
Categories: Pets, Hospitals and Clinics, Veterinary
Tags: Animal MRI, Animal Safety, First in US, Groundbreaking, MR Imaging, MRI, Pet Imaging, Pet MRI, Pet Safety, Veterinary, Veterinary Imaging
---