Fireflies.ai Launches Affiliate Program to Help Partners Monetize AI in the Workplace
Press Release
•
Sep 13, 2023
The affiliate program allows you to make money while promoting Fireflies.ai.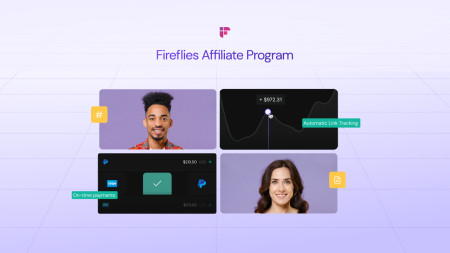 PLEASANTON, Calif., September 13, 2023 (Newswire.com) - Fireflies.ai, a leading generative AI company known for its popular AI meeting notetaker, is excited to announce the launch of its highly anticipated affiliate program. Designed to reward partners and product ambassadors, this program offers an opportunity to earn recurring commissions of up to 30% by driving new users to the platform.
Fireflies.ai is revolutionizing the way meetings are transcribed, summarized, and analyzed. Acting as your personal Chief of Staff, Fireflies remembers every detail, ensuring perfect memory after every conversation. The remarkable success of Fireflies can be attributed to its organic adoption by tech influencers and early adopters, who eagerly shared the product even before the affiliate program was introduced, making it go viral.
"We're excited to acknowledge and reward our partners, customers, and advocates," said Krish Ramineni, founder and CEO of Fireflies.ai. "Our affiliates have already earned significant income during the beta phase, some making tens of thousands of dollars per month. We're committed to investing in our partners' success and helping them grow with Fireflies."
The affiliate program offers tiered commissions ranging from 10% to 30% based on subscription referrals. With Fireflies.ai's recurring subscription model, affiliates can enjoy a consistent stream of income every month. To ensure their success, the company provides ongoing training, resources, and assets, keeping affiliates updated with the latest developments.
"Witnessing incredible enthusiasm from our users, partners, and community, this launch marks an exciting milestone for Generative AI, SaaS, and tech innovation enthusiasts. At Fireflies, we believe in win-win relationships with our partner community, making them an integral part of our team. Our affiliate program is designed to ensure long-term success for partners, with highly lucrative rewards and commissions. We welcome all partners—entrepreneurs, affiliate marketers, content creators, or anyone eager to share Fireflies and benefit long-term," said Nishant Kumar, Partnerships & GTM Lead at Fireflies.ai.
"Fireflies.ai is widely adopted across various industries and has quickly become synonymous with AI notetaking," added Ramineni. "The credit goes to our customers and partners who are helping us bring generative AI to the entire workplace, one meeting at a time."
Making Fireflies seamless for affiliate partners is a top priority for Fireflies.ai. The company understands that having a product that someone naturally wants to share is the key. The Affiliate program is free and easy to get started with. Those interested can visit https://fireflies.firstpromoter.com/ to begin.
For more details, visit the Fireflies Affiliate Program or email partners@fireflies.ai.
Source: Fireflies.ai