Fintech Start-Up fidentiaX Introduces World's 1st Marketplace for Tradable Insurance Policies
Press Release
•
updated: Oct 15, 2017
fidentiaX is building the World's First Marketplace for tradable insurance policies by leveraging on blockchain technology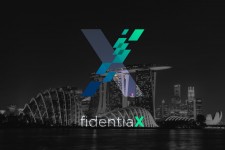 SINGAPORE, October 15, 2017 (Newswire.com) - Fintech start-up fidentiaX is in the developmental phase of creating the world's first marketplace for tradable insurance policies by disrupting the status quo by empowering policyholders to monetise policies on the blockchain. fidentiaX will also be setting up fidentiaX Open Source Foundation (fSOF) to proliferate the embracing of blockchain technology for the insurance industry.
In 2016 alone, the total market size for insurance premiums in the 40 OECD reporting countries was estimated to be in the north of $3.86 trillion dollars and Asia is projected to the be fastest-growing market for life insurance with an estimated real annual compounded growth rate of 10.2%.
The tradable insurance market is faced with inefficiencies such as:
Lack of awareness – Policyholders are unaware that policies are tradable assets which could be sold in the open market for a higher value. In 2015, out of the US$112 billion worth of policies surrendered in the U.S., US$57 billion (estimated 250,000 policies) could be resold.
No Recognizable Marketplace – The lack of a recognizable marketplace makes it challenging for sellers and buyers to connect.
Dependency on 3rd party – In the rare occasion where seller and buyer actually connects, parties need to place trust on a 3rd party to effect the transaction.
fidentiaX's marketplace will be a membership-based ecosystem focusing on the key stakeholders and providing the following services:
Policy ledger – Break traditional reliance on intermediaries by creating a digital ledger for policyholders.
Trustless Marketplace – Provides a platform for buyers and sellers to connect and trade policies via the blockchain.
fidentiaX will focus on building its operations within Asia before executing its global expansion strategy. Key countries within Asia are Hong Kong, Japan, Korea, Malaysia and Singapore.
To learn more, please visit fidentiaX's official website at https://www.fidentiax.com and stay updated on their Crowd Token Contribution launch announcement by subscribing to their mailing list. Stay connected through their social channels:
Join us on Telegram Channel at https://t.me/fidentiaX
Follow us on Facebook – https://www.facebook.com/fidentiaX
Follow us on Twitter – https://twitter.com/fidentiaX
Media Contact:
Name: Alvin Ang
Email: Alvin.A@fidentiaX.com
City and Country Location: Singapore
fidentiaX is the source of this content. Virtual currency is not legal tender, is not backed by the government, and accounts and value balances are not subject to consumer protections. This press release is for informational purposes only. The information does not constitute investment advice or an offer to invest.
Source: FidentiaX
Tags
Additional Links