Findings.co Partners With Billon to Offer Its Unprecedented Compliance Documentation Registry Over Blockchain
Press Release
•
Jan 25, 2023
The partnership will provide secured compliance documentation search and verification over Findings.co platform and the Billon Unified Blockchain.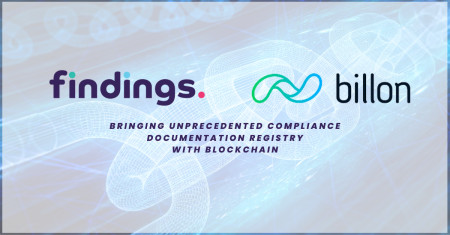 NEW YORK, January 25, 2023 (Newswire.com) - FINDINGS.CO, the supply chain automation company, announced today that it is officially partnered with Billon - the leading high-performance and regulatory-compliant blockchain to supply global customers with innovative documentation data sharing, storing, and validation for B2B compliance purposes over web 3.0.
B2B compliance is a rapidly growing pain as regulation and supply chain concerns are constantly growing, manually handled, difficult to manage, and fraught with risk.
Findings.co customers will now be able to search across millions of verified compliance documents and receive certificates of existence, verification, and expiration - while requesting and accessing them securely. Every verified document will be published in Billon Unified Blockchain as a block - disclosing its existence while maintaining the document itself exposable only within Findings.co's encrypted environment.
"Findings.co has been successfully serving its supply chain customers to date," said Jacek Figula, Chief Commercial Officer of Billon. "Today, Findings.co moves its evidence management services to Web 3.0, signing a partnership agreement with Billon. The solution will soon allow the documents and data sharing, storing, and validation over the Billon Unified Blockchain. Customers will gain unprecedented security, reliability, and traceability, along with the solution's openness and ease of access."
"Billon partnership will bring blockchain technology to the supply chain compliance management space. This will allow for secure document verification and trust-building between all parties involved in the global supply chain ecosystem," said Kobi Freedman, CEO and Co-founder of Findings.co. "The use of blockchain technology will help ensure compliance with all regulations, building trust between all participants in a transparent and highly secure way. "
Who could benefit from the Billon and Findings.co web partnership?
Consulting firms, certification bodies, managed services, and the supply chain partners themselves will now be able to search and verify evidence existence and expiration - in a fraction of the cost and time. Vendors will be able to verify their evidence once, and in turn, will save time and costs complying with their ever-growing regulatory requirements.
For more information on Findings.co's solutions, please feel free to contact Findings at:
To learn more about Billon, please visit www.billongroup.com
Source: Findings.co