Finding The Right Ballistic Military Helmet
Press Release
-
updated: Mar 13, 2018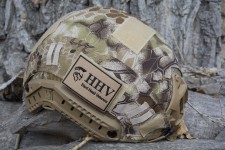 BOULDER, Colo., March 13, 2018 (Newswire.com) - All Americans who put themselves in harm's way deserve access to an affordable, safety-tested ballistic helmet. Hard Head Veterans is a veteran owned and operated small business specializing in the very best in protective headgear for current and former members of the military, law enforcement, and private security services.
Today's primary combat helmet options are designed for greater efficiency and greater comfort than ever before. And while budgets are tight, a high-quality military helmet doesn't have to be a luxury purchase. HHV offers competitive pricing and helmet qualities that outrank the competition.
When it comes to selecting a helmet, the right choice for each individual depends on a number of key specifications. Here are some tips on deciding between the three most popular tactical helmets styles. 
1. Know what's available. The three main styles of ballistic helmets most trusted today are the PASGT helmet, the MICH helmet (including the ACH helmet, or advanced combat helmet, similar to the MICH helmet), and the high cut or ATE (above-the-ear) army helmet. Main differences among the three styles include equipment attachment capabilities, weight, cut, and material.
2. Choose material. Both the PASGT and the MICH/ACH are Kevlar helmet options. ATE helmets are available in both Kevlar and Dyneema, a lightweight composite material offering strong ballistic protection.
3. Choose weight. A bulletproof helmet has to be comfortable in addition to being protective, and weight is a big part of that. The lightest tactical ballistic helmet among the three is the ATE, which weighs between 2.52 and 2.99 pounds, depending on size. The PASGT and MICH are similar in weight, with the PASGT ranging from 3.1 to 4.2 pounds and the MICH ranging from 3 to 3.6 pounds.
4. Choose features. The right enhanced combat helmet for an individual is the one that does double duty, providing not just protection but also utility. The PASGT and MICH are both compatible with night vision eye wear and can accommodate rear glow patches to deter friendly fire. The ATE provides a wider range of feature capabilities, including the ability to attach communication headsets, oxygen masks, face shields, and more.
5. Request full testing specs. There is more than just stopping a bullet when it comes to helmet testing. This includes everything from blunt impact testing, compression testing, backface, environmental, V50 and more, all performed by a certified NIJ laboratory. Any reputable manufacturer will be able to provide you this data, and we post ours up directly on our website.
The best way to choose the right ballistic military helmet is to do the research. Check out HHV's  helmet comparison page for a thorough overview of each helmet style, and visit us online to shop for quality ballistic helmet collection when you've made your choice.
Source: Hard Head Veterans
---
Categories: e-Commerce
Tags: ACH Helmet, Army Helmet, Ballistic Helmet, Bulletproof Helmet, Combat Helmet, Enhanced Combat Helmet, Kevlar Helmet, MICH Helmet, Military Helmet, Tactical Ballistic Helmet, Tactical Helmet
---