Find the Best Remote Team for Your Parenting
Press Release
•
updated: Dec 15, 2020
Multiple Language Remote Parenting Support Service: BabyLook-Remo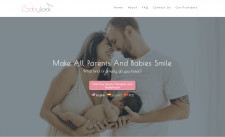 LOS ANGELES, December 15, 2020 (Newswire.com) - Viv-ing, Co, a company that specializes in research concerning early detection of infants' abilities using artificial intelligence, will be releasing a multi-lingual parenting support service that allows customers to find the best providers for remote pregnancy and childcare support. This service is called BabyLook-Remo and will release this December.
What is BabyLook Remo?
BabyLook-Remo is a multilingual parenting support service that allows users to search for the best remote childcare providers, pregnancy, and birthing caregivers. The service will be available beginning Dec. 12 and will feature a variety of prenatal and neonatal professionals such as doulas, therapists, midwives, nurses, and pediatricians to assist parents throughout pregnancy, birth, postpartum, and early parenting.
Users can begin their search on the BabyLook website which features HIPPA compliant technologies and web-services. BabyLook-Remo is aimed at parents ranging from pregnant to parents of 4-5-year-old infants. The initial release will be targeted to Los Angeles County and English, Spanish, and Chinese speaking users. However, the platform is looking to quickly expand its provider-patient network and language accessibility to meet the needs of parents everywhere.
BabyLook providers offer services ranging from mental care before and after birth, preparation for birth, practical advisory after birth, and helping when an emergency arises with a customer's baby.
Features
Since the outbreak of COVID-19 in early 2020, the public has been advised to stay home whenever possible. The safety protocols advised are especially important for immunocompromised groups such as pregnant women and infants. BabyLook-Remo seeks to connect parents with providers who can meet with them remotely or in the comfort of their own homes to keep them as safe as possible.
BabyLook-Remo's service consists of the following:
Finding providers and making the best team for each parent

Booking support

Communication support

Payment support

Treatment support
The BabyLook team will be enhancing and expanding these services on an on-going basis after release. The current version has prioritized quality providers that can adapt to each parent's needs.
Parents can select their provider from many search variables like area, experience, education and licenses to find a professional that matches their preferences. Parents are able to maintain easy and accessible contact with their provider via BabyLook throughout the entirety of their service.
Company Information
Viv-ing, Co is a company that plans, develops, and manages projects to "visualize babies' minds" using artificial intelligence technology. Since 2013, Viv-ing, Co has studied how facial expressions can be used as indicators of human behavior, with a recent emphasis on realizing effective communication in the context of child-rearing using "facial expression," "biological information," and "environmental cues". They have successfully collected infant related big data from over 500 collaborating nurseries and kindergartens.
The company is headed by Kyo Ueda who has spearheaded BabyLook's recent developments.
Viv-ing, Co receives support from the Japanese Education Support Foundation, as well as technical collaboration with various institutes including UCLA and Technology and Kobe University.
Source: Viv-ing, Co
Tags
Additional Links