Filtration Group Acquires the Facet Filtration Business
Press Release
-
updated: May 3, 2018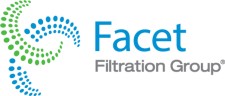 CHICAGO, May 3, 2018 (Newswire.com) - Filtration Group Corporation today announced the acquisition of the global Facet filtration business, a leading aviation fuel filtration company, from Parker-Hannifin Corporation. The addition of Facet will allow Filtration Group to expand its offerings in the aviation, marine and diversified industrial and environmental markets, further enhancing its portfolio of world class filtration solutions.
"The Facet brand has endured as a technical leader for 75 years, and this acquisition is an ideal complement to our deep-rooted commitment to make the world safer, healthier and more productive," said George Nolen, CEO of Filtration Group. "I am pleased to be able to offer more filtration capabilities and applications to our customers."
Facet manufactures and markets filter housings, filter cartridges, and complete filtration systems for hydrocarbon filtration and separation, and is a leader in global aviation fuel filtration.   
"Filtration Group recognizes Facet's level of excellence as innovators and technical experts," said Craig Randall, Global Business Leader at Facet. "I look forward to a great future with our new partner, because I know the opportunities for enhanced growth, productivity and collaboration are endless."
The acquisition of the global Facet business includes teams in the United States, France, Spain, Italy, the United Kingdom, the Netherlands, Canada, Australia and Malaysia.   
This announcement marks the second acquisition for Filtration Group this year, as it follows shortly after the close of the company's acquisition of life science leader Multisorb Technologies earlier this month.
About Filtration Group
Filtration Group, an affiliate of Madison Industries, is making the world safer, healthier and more productive by creating innovative solutions that deliver outstanding customer value. With a passionate team, global footprint and leading technology, Filtration Group is driving innovation and developing unparalleled filtration solutions. Filtration Group serves a highly diverse set of customers with offerings that span life science, process technologies, fluid and indoor air quality applications. One of the fastest growing companies in the industry, Filtration Group serves its customers from 107 facilities in over 28 countries. Please visit Filtration Group and Madison Industries at: www.filtrationgroup.comand www.madison.net.
For further inquiries: 
Matt Huser
Filtration Group
512 595 3002
mhuser@filtrationgroup.com
Source: Filtration Group
Share:
---
Categories: Aviation, Business to Business
Tags: aviation, environmental, Facet, filtration, Filtration Group, fuel, industrial, marine, oil & gas, PecoFacet
---