Filmmaker Darren Wilson Announces New Film & Tour
Press Release
•
updated: Jul 18, 2018
The first film from WP Films in nearly 3 years is a nod to the past, and a bold step forward.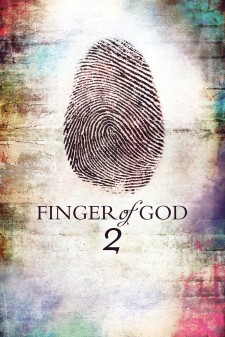 GREENVILLE, S.C., July 18, 2018 (Newswire.com) - Darren Wilson is ready to move back to the big screen. While he has spent the last 3 years creating two television shows ("Adventures With God," "Questions With God"), he always knew his legacy would be tied to the feature films from his company, WP Films ("Finger of God," "Furious Love," "Father of Lights," "Holy Ghost," "Holy Ghost Reborn"). He also knew that something would be radically different about his next film, "Finger of God 2." Namely, that he wouldn't be the Director this time around.
"When I made the decision to move forward with "Finger 2" a few years ago, I knew I couldn't be the Director," Wilson says. "To me it wouldn't have been authentic, because when I made the first 'Finger' ten years ago, I was in a wildly different place spiritually than I am now. I don't have the same questions now that I did back then. So I wanted to find someone who thought like me, but was maybe at a different stage of their journey than I was to make this a true spiritual sequel to the first one."
That, someone, turned out to be Will Hacker, a former pastor who befriended Darren when they both lived in Chicago a few years ago. At the time, Will was a pastor at Harvest Bible Chapel, an evangelical mega-church founded by James MacDonald, but he and Darren bonded over their shared frustration that much of the church in the West is not living up to its full potential, as well as a kinship for asking big questions that most churches conveniently ignore. "When I first heard of Darren, many in my evangelical community were a little suspicious of him and his films, but when I watched them, something inside me came alive--I wanted a faith like this," says Hacker, who left Harvest to pursue filmmaking with Wilson. "But where Darren started in a place asking, Are miracles real? I was already past that point because I knew miracles were real. For me, the bigger question was, okay, well what's the point of it all? What's the point of miracles? Is it to be like Jesus? Is it for salvation? Is it something else? And that was really my jumping off point for this film."
"Finger of God 2" is the first film from WP Films not directed by Darren Wilson, but his hand is clearly on the film. "I was heavily involved with Will from day 1," Wilson comments. "It's a steep learning curve, making these is kind of movies, and my job was to kind of help guide him in the right direction, but also let him have his own full adventure, make his own mistakes, and also have his own successes." Darren and Will worked closely in deciding where Will would film, and even closer in the post-production process of putting the story together. But the actual filming around the world was done completely by Hacker. The result is a film that definitely carries the feel of a WP movie but also has certain differences.
"When you watch this movie, it feels both familiar, but also slightly different," says Wilson. "My movies mirror my personality, which is kind of... well let's just say I don't mind if I agitate people a little bit. I want to poke you spiritually, maybe show you things that are slightly uncomfortable, in an effort to get you thinking. Will's film has a more pastoral feel to it. You can tell this is coming from a guy who really wants to teach his audience as much as he wants to entertain them."
The release of "Finger of God 2" is by far the most ambitious for WP Films, with a tour of 36 cities in 3 months, before the official release of the film to the public on December 4. It will begin in Miami on September 1 and will work its way across the country until it ends in Redding, CA on December 3.
"Since 'Father of Lights,' we've always taken our films out on tour in some way because there's really no better way to experience these movies than seeing them in a church with hundreds, sometimes thousands of people," explains Wilson. "But in the past, my limitation has always been time, mixed in with the fact that I'm pretty introverted, so they're hard on me. Will is about as extroverted as you get, so he's excited to meet as many people as he can on the road. Plus, this is just a great movie, and we want as many people to see it as possible in a live setting."
Aside from the official tour, churches around the country can also sign up to have their own "tour stop" during the touring window, something WP is calling their "Friends Tour." Any church, of any size, can show the film anytime they want between Sept 10 - Dec 3. They simply sign up at the official website, choose their date, choose a tour package, and that's it. "Ultimately we want hundreds of churches across the country showing this thing, hitting every community with the love of God," says Hacker. "As a pastor, that's what I want more than anything. For people to encounter God in a real, tangible way."
For those outside the U.S., or in areas where a tour stop is not available, the filmmakers are offering a Sneak Peek, making the movie available to rent for a small fee on October 6, where it will be available to watch for 24 hours.
To find out more about Finger of God 2, including the tour or sneak peek, visit the official website at www.fingerofgod2.com.
To find out more about Darren and his movies and TV shows, visit www.wpfilms.com.
Media Contact: Darren Wilson
Email: pr@wpfilm.com
About WP Films WP Films was founded by Darren Wilson in 2006 when he began work on what would become his first feature-length film, "FINGER OF GOD." The company currently concentrates on reality filmmaking and asking big questions about God and faith.
Source: WP FILMS
Related Media
Additional Links