FilmHERO Launches a Royalty-Free Premium Footage Platform, Revolutionizing the Stock Footage Landscape
The subscription service offers unlimited access to 12,000+ cinema-quality 4K clips for only $34 per month, delivering content solutions to filmmakers, editors and freelancers working on ever-tightening budgets.
Press Release
-
updated: Apr 9, 2019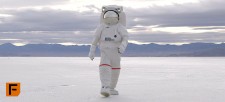 LONDON, April 9, 2019 (Newswire.com) - Global content marketplace FilmHERO today announced the launch of its new subscription service, offering an impressive curated catalog of over 12,000 cinema-quality 4K video clips. Shot on RED Digital Cinema cameras, FilmHERO's cutting edge content rivals every competitor for both quality and usability.
Unlimited access to FilmHERO's stunning footage is available immediately for only $34 per month for a 6-month subscription period.
"FilmHERO is an innovative platform for accessing a vast collection of cinema-quality clips not available through any other subscription service," said David Baumber, Founder. "Rather than pay individually for each clip, a subscription gives editors, filmmakers and agencies the freedom to incorporate any clip from our growing collection into their project in an instant, and it's all completely royalty-free".
"Ultra-HD 4K stock footage has become increasingly cost-prohibitive for most content buyers' budgets," said Helen Fields, COO. "FilmHERO takes the headache out of purchasing and using stock footage. We are unquestionably the most versatile and affordable professional platform in the marketplace."
FilmHERO will be expanding its unique footage collection at a rate of hundreds of clips per week, at no additional cost to subscribers. "We encourage our subscribers to let us know what their footage needs are," said David Baumber. "Partnering with our clients to provide access to superlative content, no matter what the budget, is FilmHERO's mission. As leading players in the industry with a proven track record, we know what the demands on filmmakers are and how to meet their needs."
FilmHERO subscriptions are currently available for purchase in more than 150 countries at FilmHERO.com. Become a HERO today: https://www.filmhero.com
About FilmHERO
FilmHERO is the world's most affordable 4K stock footage subscription service. The FilmHERO platform was launched by visionary cinematographers David Baumber and Helen Fields in April 2019 with one goal in mind: providing epic content for all. One of the most vibrant video content marketplaces, FilmHERO provides 4K+ content for multi-scale productions. With fresh content added weekly, accessing high-quality, royalty-free footage has never been easier or more exciting.
Media Contacts
Wesley Galvin, 480-235-4248
David Baumber
david@filmhero.com
Source: FilmHERO
Share:
---
Categories: Advertising and Public Relations
Tags: 4K, FilmHERO, RED Camera, RED Cinema, Royalty Free, stock content, Stock footage, stock marketplace, stock video
---