Film Festival With a Social Conscience
Press Release
•
updated: Nov 3, 2017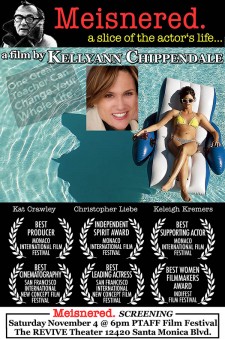 LOS ANGELES, November 3, 2017 (Newswire.com) - ​​​​Social activist Michelle Smith is proud to present the Second Annual Pembroke-Taparelli Arts and Film Festival, focusing on educational breakthroughs, the mass incarceration trend and the immigration/refugee crisis.
40 different films with a social conscience will be screened during the four-day festival at the Revive Theater 12420 Santa Monica Boulevard in West Los Angeles Nov. 1-2-3-4. The films are divided into categories, such as Youth, Reentry, Mass Incarceration, LBGTQ and Immigration.
As examples, "Asinamale" is a powerful prison musical film from the internationally renowned South African playwright and theatre-maker, Mbongeni Ngema, and "Slikk Musik Miracles & Music" is the story of a multi-platinum Dallas music producer's life taking a drastic turn when he goes into a coma after complications during gallstone surgery and dies three times but lives to tell about it.
Other titles screening include: "Meisnered" by actress and filmmaker Kellyann Chippendale, which has won numerous awards, including three top prizes at the Monaco International Film Festival in Monte Carlo. "Meisnered" is a 'reality documentary' capturing actors in a workshop learning the famous 'Meisner technique', created by legendary acting teacher Sanford Meisner. Chippendale sees her film as "a demonstration of how one great teacher can change your whole life, inspiring a spirit of connection through dialogue and empathy." "Meisnered" screens Saturday evening Nov. 4 at 6 p.m.
The passage of Prop. 36 marked the first time in U.S. history that citizens voted to shorten sentences of those currently incarcerated. "The Return" examines this unprecedented reform through the eyes of those on the front lines — prisoners suddenly freed, families turned upside down, reentry providers helping navigate complex transitions, and attorneys and judges wrestling with an untested law.
A lineup of films by or about youth includes "Lunch Time", "Microchip Jones", "Pull Up Your Pants" and "Saving Barbara Sizemore", plus the Los Angeles premiere of "Knife Skills" which tells the story of the launch of Edwin's, a world-class French restaurant in Cleveland, staffed by men and women just out of prison. These men and women all have something to prove and all struggle to launch their new lives.
A unique and special departure for PTAFF has been added for Sunday night at 7 p.m. at the Odyssey Theater. The festival will offer a special stage production of "The Meeting", a play by Jeff Stetson, which imagines the supposed meeting of two of the most important men of modern times: Malcolm X and Dr. Martin Luther King, starring Bechir Slyvain, Ethan Henry and Justin Chu Cary. Directed by the legendary actor and producer Bill Cobbs.
In addition, PTAFF presents an art exhibit showcasing the works of currently and formerly incarcerated individuals, at Open Mind Art Space 11631 Santa Monica Boulevard, near the Revive Theater location, and will be on display Saturday Nov. 4 from 4 p.m. until 8 p.m. The exhibit includes new works by Fulton Washington and the unveiling of "Words Uncaged"​ curated by Dr. Roy Bidran.
PTAFF's 2017 format will also offer Public Forum Panels examining the many issues being addressed by the festival.
Tickets are available ONLY online at www.PTAFF.org providing access to all film screenings, public forum panels and the art exhibit.
The website likewise includes a complete list of films and screening dates/times. Visit www.PTAFF.org or see us on Facebook at https://www.facebook.com/ptafilmfest.
PTAFF is a registered 501(c) nonprofit organization.
For press coverage or general information:
PLEASE CONTACT:
Pembroke Taparelli Arts and Film Festival:
Michelle Smith, Director, 310-628-5370, masmith@ptaff.org
Source: Pembroke-Taparelli Arts and Film Festival