FieldTurf Revolution 360 Lands in Miami
Press Release
-
updated: Mar 2, 2017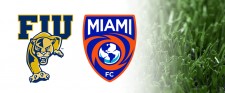 Miami, FL, March 2, 2017 (Newswire.com) - Until recently, Florida International's hiring of Butch Davis was the biggest news on campus.
However, that all changed when officials announced they'd chosen FieldTurf to install a new turf system at the Golden Panthers' Ocean Bank Field this summer. The university's new playing surface will be home to FIU's football program and the NASL's Miami FC.
FIU and Miami FC opted for FieldTurf's Revolution 360 system along with FieldTurf's patented VersaTile underlayment – the same combination as the New England Patriots and Revolution chose for Gillette Stadium.
VERSATILE PROVIDES MAXIMUM SHOCK ABSORPTION AND DRAINAGE
Made from recycled turf and thermoelastomer, VersaTile, the ultimate shock underlayment solution, offers the dual benefit of shock absorption and drainage.
With impact attenuation properties designed to mirror the leading underpads, VersaTile has proven Gmax reduction of up to 30%.
VersaTile never gets in the way of the water flow, offering maximum horizontal drainage with a free draining surface area of 82% (compared to only 35% in competitive products).
The VersaTile design allows for proper expansion and superior engineered supports on the bottom of tile delivers long-term stability and load bearing capacity 75 PSI to handle the heaviest vehicles.
REVOLUTION 360 THE FIELD OF CHAMPIONS
Named after the concept of completeness, the Revolution 360 fiber features optimal durability, resilience and feel.
Quickly becoming the most popular surface in North America, Florida International University will join an impressive list of current users, of which features CenturyLink Field, home of the Seahawks & Sounders, Gillette Stadium, home of the Patriots & Revolution, Mercedes-Benz Stadium, home of the Falcons and United, Portland Timbers, Princeton University, Toledo University, University of Texas at El Paso and over 200 High School and community fields.
UNMATCHED DURABILITY
Independent testing by both Labosport and Penn State University rated Revolution 360 as the premier turf system on the market.
In fact, Revolution 360 is still the first and only fiber in the industry to score an 83 on Labosport's Fiber Performance Index, the first true measurement of fiber quality. And the only one to receive a perfect 10 - 10 "good", NO "hair-splitting", NO "fractured", NO "complete splitting" after Penn State University's Sports Surface Research Center's aggressive 150,000 cycle Lisport Wear Testing.
Source: FieldTurf
Share:
---
Categories: Recreation and Sports, Sports-related Business, Sports News
Tags: Artificial Turf, FIU, Miami, Revolution 360
---