FieldTurf Launches Industry-First Carbon-Offset Program
Press Release
•
Jan 28, 2022
FieldTurf customers can now opt to offset emissions from their artificial turf field, adding another innovative offering to its industry-leading Sustain the Game sustainability program.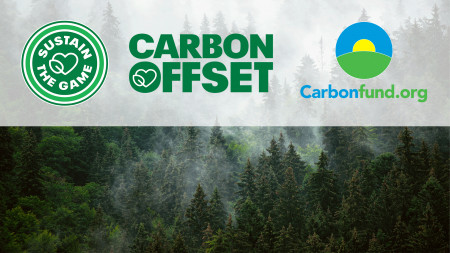 CALHOUN, Ga., January 28, 2022 (Newswire.com) - FieldTurf has announced a partnership with Carbonfund.org Foundation to offer FieldTurf customers a carbon offset program, the first of its kind offered by an artificial turf manufacturer.
Using FieldTurf's proprietary surface intensity calculator, which tallies potential greenhouse gas (GHG) emissions of a project, customers can now choose to offset 100% of the CO₂e resulting from the surfacing of their field. The program is currently available on projects in North America for a majority of FieldTurf system.
Carbon offsets counteract the impact from existing GHG emissions through sustainable solutions that capture or otherwise keep sources of GHGs from emitting into Earth's atmosphere. FieldTurf's voluntary offsets are provided through Carbonfund.org Foundation's Carbonfree® Product Certification Program, which offsets emissions by funding third-party validated and verified renewable energy, forestry and energy efficiency projects that support a low-carbon transition for the planet.
There are two predominant ways carbon neutrality can be achieved. The first is by reducing emissions before they happen, and the second pathway is to offset emissions that can't be avoided. FieldTurf is committed to a reduction-first approach, continuously striving to find emissions-lowering efficiencies, reducing its environmental impact by sourcing the most ecologically sustainable materials for use in manufacturing processes, and being among the first to implement zero-emission manufacturing facilities. By empowering customers to offset GHGs that can't be reduced, FieldTurf is leading the way to going above and beyond first principles.
"FieldTurf continues to lead the way for field sustainability," said Eric Daliere, President - Tarkett North America & Tarkett Sports. "By working with Carbonfund.org Foundation, we can offer an easy and direct way for our customers to participate in the fight against climate change by voluntarily offsetting the carbon emissions from their artificial turf installation."
Voluntary carbon offsetting is another first from FieldTurf under its Sustain the Game program—joining a growing playbook of key environmental and social impact initiatives, like Goal Zero, a commitment to divert 100% of its manufacturing and job site waste in North America from landfills by 2025.
"Along with Goal Zero and now voluntary carbon offsets through Sustain the Game," said Daliere, "FieldTurf is committing to ambitious goals that are setting new global standards for the industry."
To reach these commitments, FieldTurf continues to collaborate with suppliers, employees and partners, looking for opportunities to go beyond business as usual. FieldTurf is calling on everyone, including customers and other turf manufacturers, to join their mission to fight climate change and achieve carbon balance, as they continue to help drive the field to zero.
Source: FieldTurf