Fiberglass Building Products Inc. Revolutionizes Gutter Solutions With Innovative Fiberglass Technology
Press Release
•
Aug 1, 2023
FiberGutter is a Revolution in Rain Gutter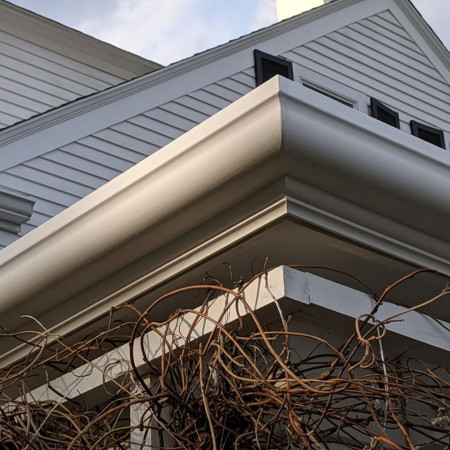 HALIFAX, Mass., August 1, 2023 (Newswire.com) - FiberGutter, a leading name in the manufacturing, distribution, and installation of fiberglass gutter systems, is proud to announce its exponential growth and unparalleled success since its inception in 2015. Specializing in providing top-notch fiberglass gutter solutions for residential, municipal, and commercial projects, FiberGutter has emerged as the go-to choice for homeowners, architects, and contractors seeking superior gutter replacement and new construction options.
Traditionally designed to replace wood gutters commonly found in historic homes across New England, the fiberglass gutter has evolved into a more valuable and advanced solution for modern construction needs. Its remarkable durability, low-maintenance requirements, and exceptional performance have transformed the industry landscape, making it the preferred choice for thousands of projects.
"We are thrilled to witness the widespread adoption of our fiberglass gutter technology," said Edward Mayo, Founder and CEO of FiberGutter. "Our dedication to quality craftsmanship, innovation, and customer satisfaction has enabled us to surpass the milestone of selling over 1 million feet of our state-of-the-art fiberglass gutter products. This achievement is a testament to the trust placed in FiberGutter by our valued clients and partners."
Key features and benefits of FiberGutter's fiberglass gutter system include:
Unmatched Durability: Crafted from premium-grade materials, FiberGutter's products are engineered to withstand harsh weather conditions, ensuring longevity and reliability for years to come.
Low-Maintenance Solution: Unlike traditional gutter materials, fiberglass gutters require minimal maintenance, saving homeowners and property managers valuable time and resources.
Aesthetically Pleasing: FiberGutter offers a wide range of customizable options, allowing seamless integration into any architectural design, enhancing the curb appeal of residential and commercial properties.
Environmentally Conscious: With a strong focus on sustainability, FiberGutter's eco-friendly materials contribute to reducing the environmental impact, making it a responsible choice for conscientious builders and homeowners.
As FiberGutter continues to grow, it remains committed to pushing the boundaries of gutter technology and elevating industry standards. The company's dedication to research and development has resulted in cutting-edge advancements, ensuring that clients benefit from the latest innovations in fiberglass gutter solutions.
For more information about FiberGutter and its revolutionary fiberglass gutter products, please visit www.fibergutter.com.
About FiberGutter:
FiberGutter is a pioneering manufacturer, distributor, and installer of top-quality fiberglass gutter systems. Founded in 2015, the company has quickly risen to prominence due to its commitment to excellence and innovation in the gutter industry. FiberGutter's products have become synonymous with durability, aesthetics, and environmental responsibility, making them the preferred choice for projects ranging from historic home restorations to modern commercial developments.
For media inquiries, please contact:
Fiberglass Building Products Inc.
546 Plymouth St
Halifax, MA 02338
Office: (781) 754-0118
Source: Fiberglass Building Products Inc.
Related Media