Female-First AI-Powered Professional Social Platform LeadForCareer Debuts at TechCrunch Disrupt
First-ever demo of LeadForCareer platform shows how to retain more women in the workplace.
Press Release
-
updated: Sep 18, 2017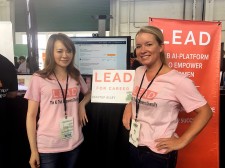 SAN FRANCISCO, September 18, 2017 (Newswire.com) - LeadForCareer, an AI-powered professional network that empowers women in the workplace, will be exhibiting at this year's TechCrunch StartUp Alley, showing their first-ever live demo of their comprehensive mentorship and social platform. LeadForCareer is a perfect fit for Techcrunch Disrupt as their mission is to disrupt gender inequality in the workplace.
Female-founder Yumi Alyssa Kimura, CEO and co-founder of LeadForCareer, created the mentoring and social platform to help women grow their careers. "Women in the tech industry leave at a rate of 45% higher than men," says Yumi. "Connecting them with like-minded mentors can help with retention, and feelings of belonging within their companies and within the tech world as a whole."
During this first-ever demo, they'll be showing not only the interface but the powerful technology behind the application too. LeadForCareer connects mentors and mentees through artificial intelligence, making more meaningful interactions for women especially that were previously difficult to find. Mentorships can have an incredible impact on a career. In one study, mentees were up to five times more likely to be promoted than those who did not have mentors, and up to 25 percent more likely to receive raises. The problem is, it's much more difficult for women to find mentors than men, since there are so few women leaders at the top of organizations. LeadForCareer solves this problem, giving men and women an equal playing field to make the right connections to be mentored.
In addition to the mentor match functionality, LeadForCareer is also a social platform that gives great content and community-building for diversity and inclusion. This nascent social platform is ambitious and hopes to make also make a difference in the hiring and promotion process. The platform will also welcome male users. "We want to become the place where men can learn about the issues and try not to become a part of the issue. Men can be great mentors and mentees as well," said Yumi.
About LeadForCareer
Founded in April 2017 by Yumi Kimura and Egor Vinogradov, LeadForCareer develops AI product that helps increase gender equality in the business world. LeadForCareer's raised a seed round from American and Japanese investors such as ISGS Venture, Kanemoto Kaneto, the CEO of OKWAVE, a public listed AI-powered Q&A platform in Japan, etc. Learn more at LeadForCareer.com.
About TechCrunch Disrupt
TechCrunch Disrupt SF 2017 is TechCrunch's 11th annual conference in San Francisco. The format combines top thought-leader discussions with new product and company launches. Morning executive discussions debate technology-driven disruptions in many industries, while the afternoons are reserved for the Startup Battlefield, where 20+ new companies will launch for the first time onstage, selected to present from numerous applications received from around the world. The winning company will receive a $50,000 grand prize and the Disrupt Cup at the conclusion of the conference. The conference is September 18-20th, 2017 at Pier 48 in San Francisco.
Media Contact: 
Yumi Kimura
Phone: 510.461.7392
Email: yumi@leadforcareer.com
http://leadforcareer.com
Sources:
1) https://www.forbes.com/sites/lisaquast/2011/10/31/how-becoming-a-mentor-can-boost-your-career/#407df4505f57
Source: LeadForCareer
Share:
---
Categories: Saas (Software as Service), Human Resources, Internet
Tags: diversity, HR, SaaS, startup, women empowerment
---