Featured: Top Six Popular Learning Apps for Toddlers and Preschoolers
There are not many mobile apps that have raised the bar for interactive education coast to coast. Here are the top six that can change this notion.
Press Release
-
Jan 29, 2015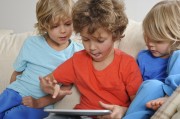 Somerset, NJ, January 29, 2015 (Newswire.com) - Make Sentences
What this language app does is fairly obvious: it assists users in constructing simple to complex sentences. Now the WOW part of the whole experience comprises activities such as being able to drag isolated words and place them in a syntactically acceptable sequence, switching over between play and pause modes, getting familiar with the program via a quick training walkthrough, and treating the eyes with a burst of creative animations.
Math on the Farm
Math on the Farm serves contemporary technology on a traditional platter. The good-ol' world of farming is beautifully explored through cute use of graphics and vibrant colors.
Just Match
Besides having a cheeky name, Just Match has quite a few attributes that are likable. For instance, users can have oodles of fun dragging the wrong figures before actually pulling out an accurate match and being greeted by an innocuous-looking character. The app uses familiar sights (vegetables, fruits, flowers, animals and birds) in the gameplay part – just to help children like it a little more.
Whatpairs
Every app has a personality. Some learning apps like Whatpairs are able to evolve by offering much more than what's typically possible by an AI program. Kids can not only pair objects to receive an animated dose of self-esteem but also hone their spatial cognition skills. Whatpairs may be a good tool for children with learning disabilities such as autism.
Social Talks
For many people, lack of social communication skills is a major stumbling block to career advancement. And part of the problem is that few people realize their shortcomings until they find themselves in an awkward situation. Social Talks has turned out to be an effective social skills building app for young children. This application is developed by WebTeam Corporation in collaboration with Dr. Vidya Bhushan Gupta – fellow of the American Academy of Pediatrics (AAP) and member of the Society for Developmental-Behavioral Pediatrics.
Alphabet Trace
Alphabet Trace teaches the most fundamental lesson of writing English alphabets in a sophisticated way. Most users enjoy getting through a session when questions appear in a random order.
iOS users can find these apps here.
Android users can find these apps here.
Just Match, Whatpairs and Alphabet Trace will soon be available on Google Play.
Share:
---
Categories: Information Technology, Education
Tags: AI, Apps for Children, Autism, Cognition Skills, ColorsKit, Interactive Education, Language App, Learning Apps, Learning Disabilities, Mobile Apps, Social Skills, WebTeam Corporation
---