FAST Entertainment LLC's DRAIN THE SWAMP Card Game to Release 'No Collusion' Expansion Packs May 2018!
For Comic Relief from the anger and angst of daily White House lunacy - 1st Liberal leaning card game adds to its hilarious Swamp offerings
Press Release
-
updated: Apr 3, 2018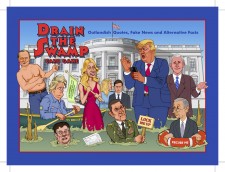 PARSIPPANY, N.J., April 3, 2018 (Newswire.com) - FAST Entertainment LLC continues to provide the comedic antidote for political anger and angst with the upcoming release of the "No Collusion" Expansion Packs for its DRAIN THE SWAMP Card Game.
48 percent of the country can now take back control and have a ton of fun, playing the hilarious new Liberal-leaning game, DRAIN THE SWAMP Card Game. "DRAIN THE SWAMP" underscores the absurdity in today's politics while poking fun at many of the key personnel in and around the White House today. Players must answer different types of questions, worth varying points, about members of the administration, as well as attempt to COMPLETE THE TWEET(s) of "you know who" to win the game.
FAST's Co-Founder, Scott Cooper said, "What's really wild about DTS is that players may often have difficulty distinguishing between actual quotes and events, and the crazy, humorous ones we made up for the game! It's an added challenge we didn't even plan for and it gets harder every day to tell the difference!"
Cooper's partner and co-founder Fred Schnitzer said, "Everything changes so much from day to day with events, resignations, firings and tweets. It's been hard to keep up with. We literally added and edited cards right up until we went into production on the inaugural game. As new cards practically 'write themselves' every day, we are really excited about the 'No Collusion' Expansion packs targeted for release in May 2018."
"This is gonna be a bigly hit, believe me!" – Anonymous Source
A portion of the revenue from the sale of this game will be donated to the leading charity fighting hunger in America and we are working on fund-raising with DACA organizations.
DRAIN THE SWAMP Card Game - For a Complimentary game for members of the Press email address and press credentials to: info@draintheswampcardgame.com 
Contact:                                                                     
Fred Schnitzer
 
Scott Cooper
                      
info@draintheswampcardgame.com                          
@drainswampcards - FB: Draintheswampcardgame
Source: FAST Entertainment, LLC
Share:
---
Categories: Politics, Games and Play
Tags: anti-trump, card games, clinton, democrats, family fun, gifts, liberal, obama, party games, politics, progressives
---
Related Files
Additional Links