Family Rentals Joins the Luxury Concierge Network
Press Release
•
updated: Jun 9, 2017
Leading South Florida Rental Company is Excited to Partner with the Luxury Concierge Network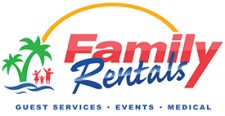 Delray Beach, Florida, June 9, 2017 (Newswire.com) - Family Rentals, a leading guest services and rentals provider in South Florida, is excited about their partnership with the Luxury Concierge Network.
The Luxury Concierge Network (LCN) is an organization that builds bridges between concierge professionals from luxury residences, and the luxury sector. LCN connects luxury brands, services, and organizations with concierge professionals from the most exclusive, residential communities and hotels in Miami-Dade and Broward counties.
To find out more about the rental items and delivery services offered by Family Rentals, visit them online today at https://familyrentals.com/.
About Family Rentals
Family Rentals is the leader in South Florida for all of your rental item needs. Family Rentals offers only quality products, prompt delivery and professional service to all points in South Florida. Our on-staff customer service is available to assist you in the reservation process and with any questions you might have. Our rental delivery service is available 24 hours a day, seven days a week, and 365 days a year. All rental items are cleaned and sterilized by our full housekeeping staff. We are family-owned and operated for nearly 20 years and well known through our large network of business partners.
For additional information on Family Rentals, please visit https://familyrentals.com/, or contact a customer service specialist at 561-279-9355, 305-220-1004, or 954-772-2288; or send an email to info@familyrentals.com. Family Rentals proudly serves Miami-Dade, Broward, and Palm Beach counties.
About Luxury Concierge Network
The Luxury Concierge Network (LCN) is a platform dedicated to building relationships between concierges from some of Miami's most exclusive residential buildings and the city's luxury sector. LCN was conceived in early 2013 in Miami by Marcelo Rivero, a former residential concierge and owner of a boutique public relations and events agency, as an answer to the lack of resources specific to concierges from luxury condominiums. In 2016, Marcelo Rivero partnered up with Alan Lazowski, Jordi Ricart and John Temerian to expand the reach of the network and incorporate a digital component. Today, Luxury Concierge Network is a support system with a focus in lifestyle, where residential concierges can find resources, information, and contacts related to the luxury sector. LCN also offers consulting and event services to a portfolio of select luxury brands, service providers and organizations, as well as concierge recruiting and training services for luxury residential communities.
For additional information about Luxury Concierge Network, please call Christyana Bishop at 786-299-5803 or email yana@luxuryconciergenetwork.com.
###
Source: Family Rentals