Craig and Martine Zinn, and Subaru of Pembroke Pines Chooses JAFCO as Beneficiary Charity for the Share the Love Event
Famed Artist Romero Britto Unveiled Sculpture at JAFCO Children's Ability Center
Press Release
-
updated: Dec 21, 2017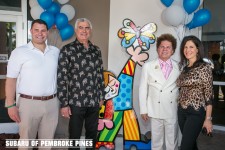 FORT LAUDERDALE, Fla. , December 21, 2017 (Newswire.com) - JAFCO celebrated the holiday season with their annual Family Funday. This annual event has become a staple for the families they serve at the JAFCO Children's Ability Center. The day was filled with holiday spirit as the families celebrated the holiday with a family meal and the children picked the toys they wanted from a vast selection of toys, donated in part through a toy drive held by the Craig Zinn Automotive Group.
During the festivities, an 8-foot tall monumental sculpture created by world-renowned artist Romero Britto was unveiled and will adorn the entrance to the JAFCO Children's Ability Center. The sculpture was generously donated by Craig and Martine Zinn of The Craig Zinn Automotive Group and represents the creative ability children have to design their future.
JAFCO was selected by Craig and Martine Zinn, and The Craig Zinn Automotive Group (CZAG) who own and operate Subaru of Pembroke Pines, as the 2017-2018 Subaru of Pembroke Pines Share the Love Event charity partner. Now through Jan. 2, 2018, Subaru of Pembroke Pines will donate $250 of each vehicle sold or leased to the JAFCO Children's Ability Center.
Share the Love is a cornerstone of the mission of the entire Subaru Company, whose mission is to support causes that are important to it as a company, its retailers and customers. Over the last three years Craig and Martine Zinn, the CZAG, and Subaru of Pembroke Pines have participated in the Share the Love program. Their financial contributions have culminated in a donation total of $337,509 benefiting local South Florida charities.
"We are here with our hearts, we accept everyone, we appreciate what everyone does, this is all about sharing the love. We want the children and families served at the JAFCO Ability's Center to be inspired by Britto's art, the same way we are inspired by his art," said, Craig Zinn, founder, and CEO, at The Craig Zinn Automotive Group.
JAFCO's mission is to care for abused and neglected children and those with disabilities in the Jewish community and to work in partnership with families and the entire community. They believe that the care of children in our community is everyone's responsibility, one they accept with joy, pride, and love – giving every child a place to belong.
"Martine and Craig Zinn have shared the beauty of artist Romero Britto by dedicating this sculpture that will welcome each family as they enter the Ability Center that gives every child and their family a place to belong. In conjunction with the Subaru of Pembroke Pines share the love event, we are able to receive life-changing funds to support our programs and services thanks to their kind hearts and support," said Randi Winter, philanthropy director at the JAFCO Children's Ability Center.
ABOUT SUBARU OF PEMBROKE PINES:
At Subaru of Pembroke Pines, we offer a vast variety of Subaru cars, trucks, and SUVs. Our sales team will help you find that new or used Subaru vehicle that you have been searching for. We proudly serve new and used car shoppers from all over the South Florida region. For years, our financial staff at Subaru of Pembroke Pines has offered expert advice for those seeking a loan for a Subaru purchase or lease. Our service doesn't stop there, our customers can trust our knowledgeable Subaru car repair technicians and take advantage of our fully-stocked inventory of Subaru auto parts in our service department. You can reach Subaru of Pembroke Pines any time by filling out the contact form on our website, subaruofpembrokepines.com, by calling us, (888) 821-9697, or simply visiting our Subaru of Pembroke Pines dealership at 16100 Pines Boulevard, Pembroke Pines, Florida.
About JAFCO:
JAFCO is a 501(c)(3) nonprofit organization established in 1992 to provide services to abused and neglected children and those with developmental disabilities in South Florida. For more information visit, jafco.org.
MEDIA CONTACT:
Rixys Alfonso
305.558.8877
rixys@causemomarketing.com
Source: Subaru of Pembroke Pines
Share:
---
Categories: Automotive, Artists, Philanthropy
Tags: Automotive, Charity, Children, Developmental Disabilities, Philanthropy, Share the Love, Subaru
---