Fall Foliage Welcomes Visitors to Pagosa Springs
Press Release
•
updated: Sep 5, 2017
As fall settles over Pagosa Springs, leaves drop after their seasonal transformation; vibrant autumn hues decorate trees and leave lasting impressions of beauty. These breathtaking Colorado sights are worth seeing, both on local hikes and drives.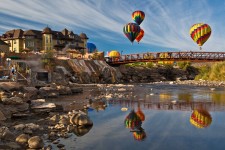 PAGOSA SPRINGS, Colo., September 5, 2017 (Newswire.com) - ​​Surrounded by 2.5 million acres of wilderness and national forest areas in southwest Colorado, Pagosa Springs is marked by distinct seasons. As autumn approaches and temperatures begin to shift, the leaves begin their transformation as well; the tall-standing greenery will morph into hues of reds and yellows and fall to the ground.
"Pagosa Springs is beautiful all year round," Visit Pagosa Director Jennifer Green said. "There's definitely magic in the fall, since the leaves changing can't be beat."
Pagosa Springs is beautiful all year round. There's definitely magic in the fall, since the leaves changing can't be beat.

Jennifer Green, Director of Visit Pagosa
To celebrate autumn, Pagosa Springs will host the 31st annual ColorFest Weekend, complete with hot air balloons, music, libations, food, and more. The festival begins on Friday, Sept. 15 and runs through Sunday, Sept. 17.
Friday, Sept. 15
6-9 p.m., Town Park Athletic Field: Passport to Pagosa Food & Wine Fest
For $45 per person, festival goers can enjoy wine, beer, and food from local businesses, in addition to entertainment. Purchase tickets online here.
Saturday, Sept. 16
7-10 a.m., San Juan River at the GGP Site: Breakfast with Balloons
Hosted by the Geothermal Greenhouse Partnership, the second annual ColorFest Breakfast with Balloons will raise money for the GGP Growing Domes. The event includes a gourmet meal with champagne, a view of the hot balloon ascension, and music by world-class saxophonist Bob Hemenger. Tickets are $40 for adults and $20 for children.

8 a.m., Downtown Pagosa: Mass Balloon Ascension
Hot air balloons will fill the sky overhead Pagosa Springs, for all to enjoy.

8 a.m., Town Park: 5k Color Run/Walk
​As balloons fly overhead, brilliant colors will follow participants in the annual color run/walk, raising money for Rise Above Violence, serving victims of domestic violence. Participants wear white, before getting doused with brightly colored chalk throughout the race at color stations.

4-8 p.m., Town Park: ColorFest Music and Micro Brew Festival
In addition to live music, this festival features breweries from throughout Colorado and Northern New Mexico competing for several ColorFest awards, including "People's Choice" and "Brewer's Choice." Tickets are $10 for general admission, $25 for a souvenir glass and beer tasting.
Sunday, Sept. 17
8 a.m., Uptown Pagosa, near Pinon Lake: Mass Balloon Ascension
The 2017 ColorFest will conclude with the final ascension of hot air balloons over Pagosa Springs.
From mid-September to early October, Pagosa Springs is a flawless portrait of fall vibrancy. While many Colorado mountain towns experience short fall seasons, Pagosa Springs' large elevation range (7,000 to 12,000 feet) provides a lengthy window for autumn sightseeing. These incredible seasonal views welcome visitors, offering breathtaking mountain scenery through popular hikes and drives.
Hikes
Opal Lake. Opal Lake Hike is a moderately easy 1.2 miles and takes about 45 minutes to complete. The trailhead traverses across an open meadow, with gorgeous high country autumn sights. Hikers can see several beaver dams, a mountain face, and the mineral deposits which give Opal Lake its milky color. The most impressive during the autumn season, however, is the wooded hillside, complete with a color-changing aspen grove, which surrounds visitors with beauty through one of the world's largest connected living organisms. ​

Anderson Trail. This hike is about 9 miles in length from the trailhead to its junction with the Fourmile Trail. It crosses easily through steep terrain, and goes across the eastern shoulder of Pagosa Peak. There's a 2,349-foot elevation gain, which gives hikers a mountainous view of transforming colors from above. There are rock formations, aspen trees, and expansive fall views; the trail is open to hiking and horseback riding, and primitive camping spots are available throughout.
Drives
Plumtaw – Piedra Loop. This 35-mile round trip begins on the Forest Service access road named Plumtaw, beginning in Pagosa Springs. The road cruises through the back country and ascends in elevation, providing spectacular fall foliage and vista views, before meeting the Upper Piedra Road and heading toward Williams Creek Lake. The lake, known for its incredible fishing, is a scenic high mountain reservoir surrounded by gorgeous scenery. Travelers can keep driving on Piedra Road to return to town, noticing open pastures, hills and grand vistas.

Blanco Basin. This scenic drive is perfect for the height of autumn, when the leaves of aspen trees are bright and flaming. Visitors begin by heading south on Highway 84 for eight miles, before turning off onto Blanco Basin. Continuing on this road, visitors can experience views of the Continental Divide, Oil Mountain, and Square Top Mountain — ideal for wide-open spaces and tufts of color.​

Wolf Creek Pass – East Fork Road. Head to Wolf Creek Pass — a scenic treat in all seasons — for vast valley and easy access waterfall views. With several overlooks along the way, this route has a reaching view of Pagosa Springs in its entirety, beautifully decorated in fall hues.
About Pagosa Springs
Surrounded by the Weminuche Wilderness and the San Juan National Forest amid the majestic San Juan Mountains in Southwest Colorado, Pagosa Springs offers visitors a rich geological and cultural history to explore. Known for its world-famous hot springs, "Pagosah" is the Southwestern Ute word for "healing waters." With its official designation as the "Deepest Hot Springs Aquifer in the World," the Mother Spring fuels three downtown hot springs locations. In addition, the soaring cliffs, ragged peaks, magical alpine pools, undisturbed wilderness, and cascading rivers reveal a dramatic geological history that invites voyagers, young and old, to venture into Pagosa Springs' backcountry. For more information, please visit www.visitpagosasprings.com. For the online media room, go to https://pagosaspringsco.newswire.com.
MEDIA CONTACTS:
Jennifer Green, Director
Visit Pagosa Springs
105 Hot Springs Blvd., PO Box 1859
Pagosa Springs, CO 81147
970-903-9728
sales@visitpagosasprings.com
or
Vicky Nash
Resort Trends, Inc. – tourism communications
970-948-4923
vicky@resorttrends.com
Source: Pagosa Springs
Related Media
Tags
Additional Links