Faith Christian Academy Hires Tim Swore as Varsity Head Football Coach
Press Release
-
updated: Feb 11, 2019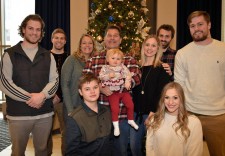 ORLANDO, Fla., February 11, 2019 (Newswire.com) - Faith Christian Academy is pleased to announce the hiring of Tim Swore as its new Varsity Head Football Coach.
Coach Tim Swore comes from Grand Rapids, Michigan, where he coached at NorthPointe Christian for the previous 11 years, launching their football program in 2008. Over the past 11 years, Swore has posted a 71-41 record (.633 winning percentage), winning District titles and reaching the Michigan state semi-finals in 2014 and 2015. Prior to starting the football program at NorthPointe, Tim Swore had a 17-year career in broadcasting, hosting football shows for Notre Dame Football, the Cincinnati Bengals and the Detroit Lions.
"After a successful and meaningful 11 years in Grand Rapids, and after helping so many young men develop academically, physically and spiritually, I am incredibly excited to bring my experience and collegiate development platform to Central Florida," said Coach Swore. "Faith Christian Academy is an excellent fit for my coaching style and developmental platform, and most importantly, because of the well-rounded approach that is taken by FCA with every student-athlete on campus. My wife, Tammie, and I are looking forward to the next 11 years and beyond at Faith!"
Swore was the OK Silver Coach of the Year in 2015, the Offensive Head Coach for the 2017 Michigan Addix All-Star game, and has coached 15 All-State Players. Today, Swore has 11 of his former players playing college football, with that number increasing to 13 this fall, including Michigan State's Kenny Willekes, current Big 10 Defensive Lineman of the Year and NCAA All-American. Under his leadership, NorthPointe is the #1 High School in Michigan with current college football players based on the school's enrollment.
"At Faith Christian Academy, we expect academic and athletic excellence from our players and coaching staff," says Faith Christian Academy Athletic Director, Tony Medina. "By selecting Coach Swore as our new Varsity Football Head Coach, we absolutely nailed it! This is an extremely exciting hire for our school and football program. He encompasses everything we are looking for and understands the whole picture."
Swore has already announced the hiring of Defensive Coordinator, Rob Keefe, former Orlando Predators head coach, and current head coach for the Arena League's Albany Empire. Coach Rob Keefe will join Faith Christian Academy immediately following the 2019 Arena Football Season. Rob Keefe has four arena championship victories to his name and is the only person in arena football history to win Arena Cup (AF2) and Arena Bowl (AFL) titles as both a player and a coach.
On Tuesday, Feb. 12, Faith Christian will be hosting our CFC College Football Recruiting Mega Fair from 8 a.m.-4 p.m. here in our atrium. Tim Swore will be announced to the media and public and take questions on Tuesday, Feb. 12, at 6:30 p.m. at Faith Christian Academy kids theater. He will be joined by Athletic Director, Tony Medina, Defensive Coordinator, Rob Keefe, and the Faith Christian Academy football staff.
Source: Faith Christian Academy
Share:
---
Categories: Football
Tags: Christian private school, coach, Faith Christian Academy, FHSAA, Florida, football, football program, head coach, high school sports, Predators, Rob Keefe, SSAC
---