FactGem Showcases Integrated Data Technology at MicroStrategy World™ 2018
Press Release
•
updated: Jan 23, 2018
Company demonstrates ability to rapidly integrate data so businesses can focus on insights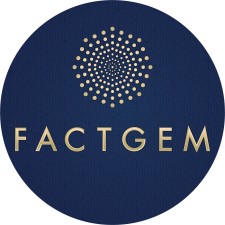 LAS VEGAS, January 15, 2018 (Newswire.com) - As a sponsor of MicroStrategy World 2018, FactGem will be demonstrating its ability to rapidly integrate data from data silos to help organizations deliver business-driving insights. The technology allows business leaders and decision-makers to quickly connect their data and deliver results – no code required. Visit the FactGem booth in the MicroStrategy World Exhibit Hall from Jan. 16-17, 2018, at The Cosmopolitan of Las Vegas.
Businesses manage entities and relationships that are important to their success. These can include customers, orders, transactions, products and more. Functional specific applications map the data a business naturally understands to meet the requirements of their underlying storage. On top of this, there are multiple applications and data stores in any organization storing similar information but in different shapes to meet the requirements of their specific business units and applications. As a result, connecting this data to provide a unified view across all sources within an organization is typically a complex, expensive, time-consuming and labor-intensive project. Not anymore.
The combination of FactGem and MicroStrategy helps users unlock data silos, identify important trends and anomalies and then immediately take action upon the insight to drive business results.

Mark Gambill, CMO, MicroStrategy® Incorporated
FactGem turns the disconnected data silo problem on its head. If you can draw on a whiteboard the business entities and relationships that you want to be able to query, you can use FactGem to connect your data. FactGem's visual modeler allows users to draw the data model for their business, apply rules to the model, map disconnected data sources to the model and then populate that model with the data from those mapped sources. Data is automatically linked to fit the business logic within the FactGem Data Fabric.
"What it comes down to is that we solved this impossible problem from a tech perspective, but what we're really providing is a business solution," said CEO Megan Kvamme.
Where a traditional, technology-driven data integration project can take months or even years to complete, FactGem can rapidly bring data together into a secure, cohesive, queryable model within hours. This allows for the acceleration of machine learning and artificial intelligence. Instead of spending time wrangling data to fit yet another model for yet another silo, IT and analysts can focus on insights and algorithmic analysis of data to deliver real business value. If new data is added or the business model changes, FactGem will change in real time to deliver insights at the speed of business – no need to wait days, months or years.
"Technology has progressed to the point where it should no longer be the sole purview of engineers. Modern data integration is not as hard as your IT department would like you to believe," said CTO Clark Richey.
"In order to differentiate themselves, organizations need to uncover unique insight from data repositories that reside across the enterprise and make it easily accessible and consumable for all employees," said Mark Gambill, CMO, MicroStrategy® Incorporated. "The combination of FactGem and MicroStrategy helps users unlock data silos, identify important trends and anomalies and then immediately take action upon the insight to drive business results."
Drawing on the team's experience in intel, defense, government and business, FactGem gives companies access to the technology and concepts used to solve some of the world's most complex data integration challenges. FactGem delivers insights to most major business intelligence tools, including MicroStrategy.
To learn more about FactGem or schedule a demo, click here.
About FactGem:
FactGem integrates your data sources in hours through the FactGem Data Fabric. We don't disturb existing applications. Data instantly connects according to the business rules that you create in our visual model builder. You no longer have to write expensive and time-consuming code to enforce business rules for your data. Easily and rapidly engage with your data to expose the gems that you have been missing. FactGem is a business solution for the real world where businesses are run.
About MicroStrategy Incorporated:
MicroStrategy (Nasdaq: MSTR) is a worldwide leader in enterprise analytics and mobility software. A pioneer in the BI and analytics space, MicroStrategy delivers innovative software that empowers people to make better decisions and transform the way they do business. We provide our enterprise customers with world-class software and expert services so they can deploy unique intelligence applications.
MicroStrategy and MicroStrategy World are either trademarks or registered trademarks of MicroStrategy Incorporated in the United States and certain other countries. Other product and company names mentioned herein may be the trademarks of their respective owners.
MEDIA CONTACT:
Heather Phillips
hphillips@gebencommunication.com
440-666-9712
Source: FactGem