Fabulous Drag Star Brita Filter Does 'Lunch With Stormy' Podcast Before Returning to the NYC Stage for First Time in More Than a Year
Press Release
•
updated: May 20, 2021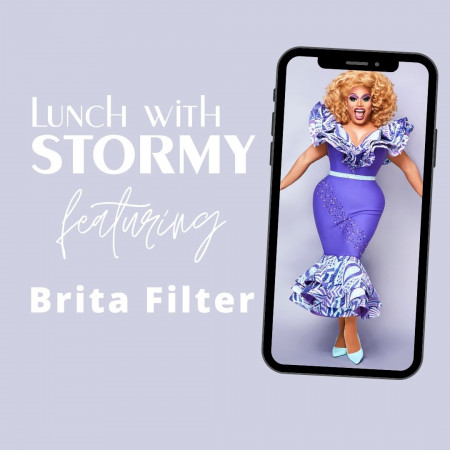 NEW YORK, May 20, 2021 (Newswire.com) - Join e-commerce pioneer and former Overstock.com President Stormy Simon and cannabusiness exec Josh Crossney for a sassy, unfiltered chat with the fabulous Brita Filter! Born as Jesse Havea to a Caucasian mother and Mormon Tongan father, this fierce force to be reckoned with has made drag history becoming the first Polynesian Tongan Drag Queen to appear on RuPaul's Drag Race. The trio covers everything from wigs, allies and the importance of the Covid-19 vaccine to handling internet trolls.
Brita is gearing up for her first in-person live performance in more than a year on May 22 at 5 p.m. ET at Playhouse in NYC.
"I'm getting ready for the show and so excited to be performing again," Brita said. "I've been getting back in shape and really finding myself out in Hawaii. I had to remember where I was from and it's still a process. Being Brita, I sometimes forget to take care of the person that's inside. Finding that balance is something that's really important that I think anyone can learn from. I'm grateful for this time and all that the pandemic taught me because, mama, when you're stuck in the house, those skeletons start to come out of the closet!"
Stormy is especially delighted to have Brita on as a guest. "I was driving down the road with Josh on my 'Lunch Across America' tour and doing these amazing Google searches and that led to the event of having Brita on the show," Stormy said. "This is a human who has lived authentically despite judgements and hurdles. I hope you hear their story and you're as inspired as I am."
Taking listeners on a candid journey through triumphs to darker moments, Brita is also not afraid to unleash the truth when it comes to politics, voting rights and other essential social issues. "Honey, you're going to pay attention to a 6-foot-7 man in a wig who's screaming into a microphone," said Brita, who is also National Co-chair of Drag Out The Vote.
For more about Stormy, please visit www.StormySimon.com. For more on Brita's upcoming appearance, check out www.Playhousebar.com.
# # #
About Brita Filter:
Brita Filter is a New York City-based drag artist who has appeared on Broad City, SNL with Katy Perry, Fusion's Shade: Queens of NYC, The Daily Show With Trevor Noah, and most recently Season 12 of RuPaul's Drag Race where she was the first Polynesian queen to compete for the crown. Brita is also the Co-chair of Drag Out The Vote.
Contact:
Joanie Cox-Henry
joanie@waverlyandwolf.com
IG: @joaniecox
Source: Lunch with Stormy