EY Announces Sumir Meghani of Instawork as an Entrepreneur of the Year (R) 2023 Bay Area Award Finalist
Press Release
•
May 2, 2023
Entrepreneur Of The Year celebrates ambitious entrepreneurs who are building bolder futures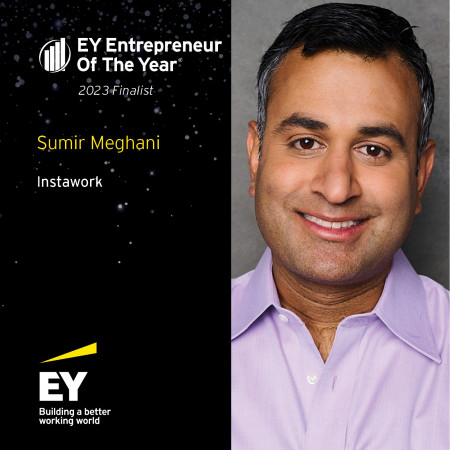 SAN FRANCISCO, May 2, 2023 (Newswire.com) - Ernst & Young LLP (EY US) announced that Sumir Meghani, Co-founder and CEO of Instawork, was named an Entrepreneur Of The Year ® 2023 Bay Area Award finalist. Now in its 37th year, Entrepreneur Of The Year is one of the preeminent competitive business awards for transformative entrepreneurs and leaders of high-growth companies who are building a more equitable, sustainable, and prosperous world for all.
Sumir was selected by an independent panel of judges. Entrepreneurs were evaluated based on their demonstration of building long-term value through entrepreneurial spirit, purpose, growth and impact, among other core contributions and attributes.
"This honor is a testament to the hard work and dedication of our team, and the millions of Instawork businesses and hourly workers who have kept the global economy running during a period of massive uncertainty," said Sumir Meghani, Instawork Co-founder and CEO. "At Instawork, our technology is enabling businesses to be more efficient, flexible, and dynamic, while providing our network of over 4 million workers with the freedom to choose when, where and how they work best. We will continue to innovate and push boundaries to create a better future for local communities."
Regional award winners will be announced on June 9, during a special celebration. The winners will then be considered by the National judges for the Entrepreneur Of The Year National Awards, which will be presented in November at the annual Strategic Growth Forum ® , one of the nation's most prestigious gatherings of high-growth, market-leading companies. The Entrepreneur Of The Year National Overall Award winner will then move on to compete for the EY World Entrepreneur Of The Year™ Award in June 2024.
The Entrepreneur Of The Year program has recognized more than 11,000 entrepreneurs throughout the US since its inception in 1986, and it has grown to recognize business leaders across 145 cities in over 60 countries around the world.
This announcement comes as Instawork has experienced record growth amidst the country's ongoing economic challenges and uncertainties within the tech industry, with more than 2 million people joining the platform over the last year. Instawork was ranked in the top 10% of the country's fastest-growing private companies by Inc. 5000 in 2022 and was included in Forbes' Next Billion Dollar Startup list. Instawork was also named the 2022 ACE Award recipient for "Best Innovation" and one of the "Best Business Apps" by Business Insider.
About Instawork
Founded in 2016, Instawork is the leading flexible work app for local, hourly professionals. Its digital marketplace connects thousands of businesses and more than four million workers, filling a critical role in local economies. Instawork has been featured on CBS News, the Wall Street Journal, The Washington Post, Associated Press, and more. Instawork helps businesses in the food & beverage, hospitality, and warehouse/logistics industries fill temporary and permanent job opportunities in more than 30 markets across the U.S. and Canada. Follow us on Twitter, Instagram, LinkedIn, and Facebook.
About Entrepreneur Of The Year ®
Entrepreneur Of The Year ® is the world's most prestigious business awards program for unstoppable entrepreneurs. These visionary leaders deliver innovation, growth and prosperity that transform our world. The program engages entrepreneurs with insights and experiences that foster growth. It connects them with their peers to strengthen entrepreneurship around the world. Entrepreneur Of The Year is the first and only truly global awards program of its kind. It celebrates entrepreneurs through regional and national awards programs in more than 145 cities in over 60 countries. National Overall Award winners go on to compete for the EY World Entrepreneur Of The Year™ title. Visit ey.com/us/eoy.
Source: Instawork