Extend Microsoft Visual Studio 2017 With Liquid Technologies XML and Web Services Tools
Liquid Studio 2017 extends Visual Studio 2017 increasing productivity for XML and Web Service Developers
Press Release
-
updated: Mar 2, 2017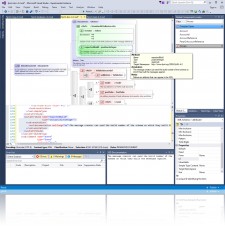 LEEDS, UK, March 2, 2017 (Newswire.com) - Liquid Technologies have announced its support for Microsoft Visual Studio 2017, providing developers with XML and Web Services tools to facilitate streamlined development of Web and Integration systems.
Liquid Technologies have provided Visual Studio tools for over a decade, and as a 2017 Sim-Ship partner show they are committed to long term support of Microsoft's new development platforms and tools.
The Liquid product suite includes graphical editors for editing XML Schema (XSD) and WSDL files, and provides validation against the industry W3C standards for XSD 1.0 and XSD 1.1.
The XSD Documentation Generator generates a fully interactive HTML or ASP.Net Web Site based on your XML Schema. This can be hosted on your private cloud or exposed on the internet for your developers or customers.
An XPath expression builder is included which highlights matching areas of any XML document and allows you to easily generate XPath snippets to include in your C# or Visual Basic .Net code.
For web service developers, the Web Service Test Client provides functionality to call any web service, such as WSDL SOAP or RESTful HTTP based web services.
In addition to supporting the new Visual Studio 2017 extensions, Liquid XML tools will continue to be compatible with previous Visual Studio environments.
Media Contact:
Andrew Farrell
Phone: +44 (0) 113 815 1570
Email: andrew.farrell@liquid-technologies.com
Source: Liquid Technologies Limited
---
Categories: Computers and Software, Computer Software, Programming, System and Data Integration, VARs, OEMs, and Integrator
Tags: Visual Studio, WADL, Web Services, WSDL, WSDL Editor, XML, XML Editor, XML Schema, XPath, XSD, XSD Editor
---