Express Assembly Releases SMT-C2 Smart Controller and Transducerized Screwdriver
Press Release
•
Jul 31, 2023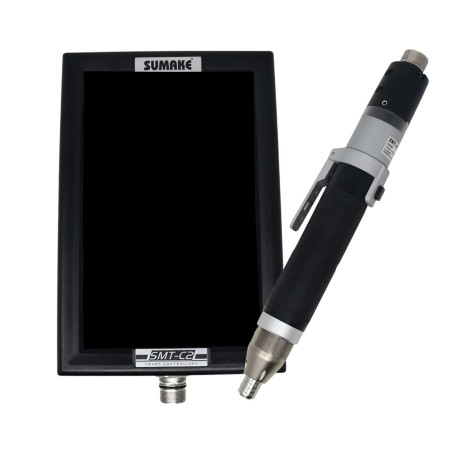 AMHERST, N.H., July 31, 2023 (Newswire.com) - Express Assembly is releasing its newest product, the SMT-C2 Smart Controller and Transducerized Screwdriver. This industrial tightening solution features an angle-tightening driver and a touchscreen user interface.
Angle tightening drivers, also known as angle-controlled tightening tools, are advanced power tools designed to provide precise and controlled tightening of fasteners. Unlike a traditional electric torque screwdriver that relies solely on torque measurement, an angle-tightening driver incorporates angle measurement into the process, enabling more accurate and repeatable results.
The smart controller optimizes the fastening process with a visible signal LED system, built-in LED light to illuminate the work area, and an ergonomic design with a covered rubber grip that offers better user handling and comfort during operation. It also helps the operator analyze all fastening results to improve production efficiency. Users in an angle-tightening assembly application are granted the flexibility to switch between multiple programs to effectively accomplish various tightening angles, turns, and torque tasks.
The smart controller saves historical data (up to 1 million pieces of data), displays the data in a curved graph for simple analysis, and exports the data via FTP or USB storage. The digital display shows the real-time angle measurement as the fastener is tightened. The ability to monitor the angle in real-time eliminates the need for multiple passes, reducing overall assembly time and labor costs.
One of the primary functions of the SMT-C2 smart controller is the ability to track the tightening and angle status. This allows operators to monitor the progress of each tightening operation in real-time, ensuring that all fasteners are properly tightened. By having this visibility, issues are easily detected during the assembly process, which allows corrective actions to be taken swiftly.
The SMT-C2 smart controller solution delivers consistent and reliable fastener installation, improving overall product quality and durability. The controlled tightening ensures that every fastener is secured to the appropriate specifications, reducing the risk of failures or loosening over time.
When this smart controller is combined with an automatic screw feeder, it provides a consistent supply of screws, reduces cycle time, and significantly improves production efficiency.
The key benefits of the SMT-C2 Smart Controller and Transducerized Screwdriver:
Angle Tightening Control
Touch Screen Data Display
Precision Tightening
Torque Driver Results Graph
Big Data Operations
"Smart assembly solutions help our customers increase their production efficiency and improve profits," said Kimberly Deppen, Express Assembly's VP of Sales. "The SMT-C2 smart controller and transducerized screwdriver solution is the next evolution in advanced industrial power tools."
To learn more about the SMT-C2, visit Express Assembly's website: https://www.expressassembly.com/product/transducer-control-unit-smt-c2/
Source: Express Assembly