Exposing Abuse and Protecting the Rights of Florida Families
Press Release
•
Jul 21, 2016
Celebrating the 1st anniversary of the new Citizens Commission on Human Center in downtown Clearwater.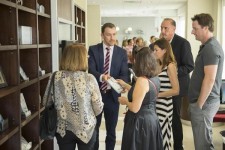 Clearwater, Florida, July 21, 2016 (Newswire.com) - ​​​​In 2014, more than 180,000 men, women and children underwent "involuntary examination" in Florida, some 17 percent of them children. This is an increase of 82 percent over the previous decade.
The mental health law in Florida, commonly known as the Baker Act, allows children to be sent for involuntary psychiatric examination without parental knowledge or consent. This is only supposed to be done if it is believed the child could be a serious threat to himself or others. However the criteria are arbitrary, leaving too much to interpretation—even bias.
Working to educate families about this threat to their children's survival and wellbeing, Citizens Commission on Human Rights (CCHR) mailed 84,000 postcards to Florida families this year, directing them to a website where they can learn more about the law and download a legal form to help protect their children from unnecessary involuntary examination.
"We want to see a reduction of the number of involuntary examinations of minors in 2016 and hope to be able to restore the rights of parents under this law during next year's legislative session," said CCHR Florida President Diane Stein.
To raise awareness of psychiatry's destructive, fraudulent and criminal background and human rights abuse extant in the field today, the Church of Scientology opened a new headquarters for Citizens Commission on Human Rights in downtown Clearwater last July.
The heart of the center is the Psychiatry: An Industry of Death Museum, presenting the unvarnished history of psychiatry across fourteen audio-visual displays, each revealing another aspect of psychiatric abuse and violations of human rights. Some 3,000 guests toured the museum since its July 11, 2015, dedication.
The headquarters has also hosted or participated in more than 100 educational events to help people understand their rights under the Baker Act.
The museum is open daily 10am – 10pm. Admission is free. For more information visit www.cchrflorida.org or call 727-467-6964.
The Citizens Commission on Human Rights (CCHR) is a nonprofit mental health watchdog, responsible for helping to enact more than 150 laws protecting individuals from abusive or coercive practices. CCHR has long fought to restore basic inalienable human rights to the field of mental health, including, but not limited to, full informed consent regarding the medical legitimacy of psychiatric diagnosis, the risks of psychiatric treatments, the right to all available medical alternatives and the right to refuse any treatment considered harmful.
CCHR was co-founded in 1969 by the Church of Scientology and Professor of Psychiatry Emeritus Dr. Thomas Szasz at a time when patients were being warehoused in institutions and stripped of all constitutional, civil and human rights.
Source: ScientologyNews.org
Related Media