Experiences Don't Have to Be Limited Due to Student Loans, Says Ameritech Financial
Press Release
-
updated: Nov 15, 2018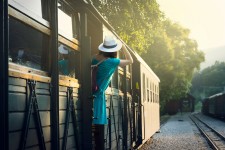 ROHNERT PARK, Calif., November 15, 2018 (Newswire.com) - Adulthood is full of new experiences and the desire for even more. But student loans may be stifling the ability to gain experiences. Ameritech Financial, a document preparation service company, says that even with student loans, there are ways to go out and experience life for personal betterment without going broke.
Traveling is among the top things people say they wish they could do, but there's always a list of reasons they can't. Up at the top of that list is affordability. Taking time off of work might mean foregoing incoming pay for the days gone, and actively spending money. Airfare prices aren't going down, but simple tricks like disabling tracking cookies when comparing ticket prices, and planning out trips like locals going home would, rather than tourists, can also make the trip more affordable. "The amount of borrowers' paychecks that go to repaying student loans often limits their focus to their current loan situation and not much else," said Tom Knickerbocker, Executive Vice President of Ameritech Financial.
Homeownership and starting a family is also an experience that is being delayed for student loan borrowers. Many people know the hardships of parents struggling to make ends meet. It's often why people go to college, so they can get a better paying job so that their own children won't have the same issue. Instead, they're often stuck struggling to repay loans, which could take decades. Entering into a federal income-driven repayment plan, which can potentially lower a borrower's monthly payments and get them on track for student loan forgiveness after 20-25 years of being in the program, maybe something that helps borrowers better afford the experiences they want from life. Ameritech Financial is a company that helps struggling borrowers apply to some of those federal programs, for a better chance at personal and financial wellness. "We believe student loan repayment shouldn't have to be a struggle. That's why we're so dedicated to helping our clients and remaining a student loan advocate," said Knickerbocker.
About Ameritech Financial
Ameritech Financial is a private company located in Rohnert Park, California. Ameritech Financial has already helped thousands of consumers with financial analysis and student loan document preparation to apply for federal student loan repayment programs offered through the Department of Education.
Each Ameritech Financial telephone representative has received the Certified Student Loan Professional certification through the International Association of Professional Debt Arbitrators (IAPDA).
Ameritech Financial prides itself on its exceptional Customer Service.
Contact
To learn more about Ameritech Financial, please contact:
Ameritech Financial
5789 State Farm Drive #265
Rohnert Park, CA 94928
1-800-792-8621
media@ameritechfinancial.com
Source: Ameritech Financial
Share:
---
Categories: Financial News, Financing and Student Loans
Tags: experience, hardship, income-driven repayment, student debt, student loan repayment, student loans, travel
---