Experienced Educator Mark Christensen Lists the Key Factors in Your Next College Video
Press Release
•
updated: May 15, 2017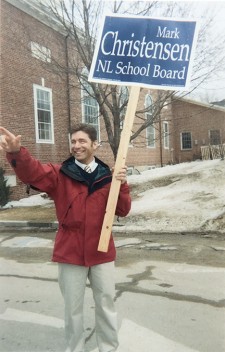 Newport, New Hampshire, May 15, 2017 (Newswire.com) - Video marketing is one of the latest and most successful types of marketing out there right now. It gives people the opportunity to share their message in a unique manner. As a result, it is becoming a very popular method for schools to talk about new faculty members, new programs, or the achievements of their alumni.
Mark Christensen of New Hampshire recently shared his blog "Crafting a Focused College Video: Get Started in Two Steps." However, Mark felt some elements were missing, as there are two other elements that he has always incorporated in his videos in order to make sure that the videos will be really effective. What Christensen also finds is that having a set process, like a blueprint, is really beneficial, and he hopes that you can learn from the things that he has done, and particularly from the following two steps.
1. Getting the Right People
If you were to take a look around your school, you will see it populated by people with talent and stories to tell. Everyone has something unique to say about who they are and what they have achieved. Perhaps your Dean of Academics has inspired others through public speaking, or maybe your coach has a sense of humor that has influenced his students for years to come. Often, people don't realize that what they are doing is making a real difference, and those are the very people that should be encouraged to come forward.
People who have a talent are those who have power. By making them work together with other talented community members, you will give your video a more authentic quality as well. You need to find people who genuinely care about the message you want to put forward. Find them, and allow them to showcase their passion.
2. Getting the Right Location
Before you even start shooting your video, you need to know where you will shoot it. It has to be somewhere that relates to your message, and that it matches the story you want to tell. There are lots of options out there, including popular hangouts in campus, distinctive rooms, historic landmarks, sports tracks, and so on. Don't do a video on your new tennis coach around your swimming pool, for instance.
You also have to think about the video production element, because the way a location looks will change depending on the time of day. Think about whether there will be other people there and whether you want to avoid that or not, what the light will be with the position of the sun, what the activity levels are like, and so on. It is based on this information that you need to create your schedule.
Finally, you have to think about the setup of your location. You have to have sufficient space, you need to make sure the people you want to shoot are there, and you need to have your equipment ready. Think about where you will set up the equipment as well, and whether that means that you have to move a few things around. A key thing to remember is that you have access to a power source — you might be surprised to know that this is often forgotten!
It is very important that you encourage people to talk about their story, and that you have the right location available to you. Getting those two things right will make a huge difference in the overall quality of your video. When you are able to inspire others, through encouragement and the right setting, they will, in turn, be able to inspire others through your video. Good luck, have fun, and lights, camera, action!
Source: Mark Christensen
Related Media