Expand Google Tasks Capabilities: Introducing Pleexy's New Integration
Press Release
•
Jun 7, 2023
Go beyond your Google Workspace and see tasks from OneNote, Trello, Outlook, ClickUp, Asana & more in Google Tasks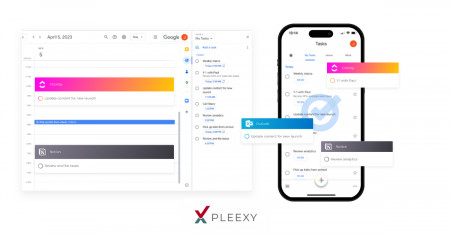 WASHINGTON, June 7, 2023 (Newswire.com) - Pleexy, the leading task automation tool, is excited to announce its latest integration - Google Tasks. This integration empowers users to effortlessly manage both their tasks from outside of their Google Workspace as well as their Google Workspace tasks in one centralized location. By bringing both Google and non-Google related tasks together in Google Tasks, context switching gets eliminated and users can seamlessly plan and prioritize their day.
Pleexy's integration supports a wide range of popular task management apps. Users can sync action items from notes, flagged emails from Outlook, Trello cards, Monday pulses, and tasks from ClickUp and Asana with their preferred task manager.
Building upon its existing support for Todoist and Microsoft To Do users, Pleexy now extends this capability to Google Tasks, solidifying it as the ultimate hub for task management. Also, users get to see even more tasks where they spend most of their time - on their Google Calendar!
By leveraging Pleexy's no-code integration, users can seamlessly connect their productivity tools to Google Tasks. The two-way synchronization ensures that tasks are kept up to date on both ends of the connection. This means that if a task is completed in Google Tasks, the corresponding task will automatically be completed in Trello and vice versa.
Furthermore, connections can be customized to suit each user's workflow. Users can specify:
Whether or not they would like to sync task due dates and descriptions to Google Tasks.
What the task title should look like in Google Tasks.
In which Google Tasks list they would like to create their synced tasks.
With a simple 5-step setup process, tasks meeting specified criteria are automatically synchronized with Google Tasks. Enabling users to stay up-to-date across all connected apps, ensuring less time spent on tracking tasks and more time accomplishing them.
"Pleexy takes Google Tasks further by enabling users to consolidate tasks from apps like Asana, Trello, Evernote, and ClickUp within Google Tasks, providing a comprehensive overview of all tasks in a single view," said Vic, Pleexy's CEO.
To be truly productive, there has to be a central location for our tasks, where we can work in peace without the back-and-forth. We believe app integration is key and that connecting your apps shouldn't be complicated. This is why we've provided the simplest way to connect the best task management apps together.
Experience the power of Pleexy's Google Tasks integration and streamline your productivity. Visit Pleexy's website today to learn more.
About Pleexy:
Pleexy is based in Washington DC and has been serving customers since 2017. Pleexy is a web-based integration tool that lets you manage emails, notes, tasks, and support tickets from various sources within your task manager. Our mission is to empower individuals and teams to achieve more by streamlining their workflows and managing their tasks from their favorite tools.
Source: Pleexy