ExoClick Becomes a Member of Adigital
Press Release
•
Jul 19, 2023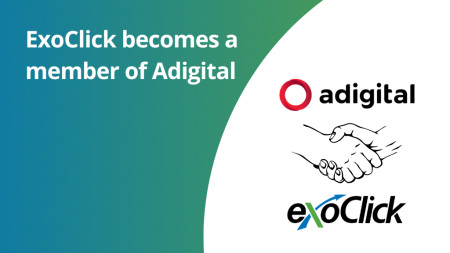 BARCELONA, Spain, July 19, 2023 (Newswire.com) - Global digital ad network ExoClick is now a member of Adigital. Adigital is the leading business association representing the Digital Economy in Spain. ExoClick is a Spanish company based in Barcelona, and the company's membership to Adigital will allow ExoClick to continue to strengthen its commitment to business innovation within the digital ecosystem.
Adigital represents over 525 innovative and transformative companies that believe in and work for the development of the economy based on the Internet, Digital Media and New Technologies. The organization brings together under the same umbrella large companies, SMEs and startups from very different sectors, united by a common goal: to create in Spain and Europe an optimal environment for the development and growth of the digital economy in order to achieve a more competitive, efficient and productive society.
Adrien Fonzé, Chief Operating Officer at ExoClick, commented, "With ExoClick being a registered Spanish company and being founded in 2006, ExoClick was part of the early Spanish startup scene. Spanish startups have become a formidable force, not just within Europe, but also globally. Adigital supports the digital economy in Spain across a range of different aspects, including e-commerce, digital content, digital marketing/communication, digital skills, data protection and privacy, and public policy and regulation. Therefore ExoClick is extremely happy to be a part of Adigital's network so we can continue to develop and grow within Spain, Europe and internationally."
Miguel Ferrer, Director of Public Agenda and Strategy at Adigital, added, "Spain, as one of the leading economies within the European Union, and Adigital helps Spanish businesses take advantage of its impact as it becomes an even stronger digital hub that enhances the competitiveness of strategic sectors of our economy. The role of Adigital and its associated companies is to contribute to this process. We welcome ExoClick into our Spanish digital business network and the advantages this brings for support within the digital ecosystem."
For more information about Adigital, visit www.adigital.org
Source: ExoClick