Excitement Builds for woom's Raise Riders Family Bicycle Weekend Feb. 15-17
Press Release
•
updated: Feb 1, 2019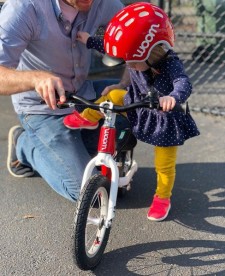 AUSTIN, Texas, February 1, 2019 (Newswire.com) - More than 200 children are expected to attend the Raise Riders Family Bicycle Weekend Feb. 15-17, 2019, presented by woom bikes USA and Buddy Pegs Media. Hosted alongside the 28th Austin Marathon and Health & Fitness expo event at the Palmer Events Center, this three-day celebration features a wide variety of bike-focused activities for kids 10 and under.
Check out the schedule of events for all the weekend's activities and highlights, including bike-themed arts and crafts, woom bike demos, a bike playground, bike scavenger hunts and more. Families can head to the bicycle play area outside the Palmer Event Center anytime during the festival on Friday or Saturday, but don't forget to also stop by for scheduled events like the family ride on the Ann and Roy Butler Trail (Friday, starting 10:30 a.m.) and Manzano Mile woom bikes kids ride (Saturday, starting 11:45 a.m.) — register here. On Sunday, the festival and bike playground will move to the Austin Marathon Finish Line Festival at 7th and Congress Avenue.
woom is looking for more parent and community volunteers to help out with the family bicycle playdates and organized group rides – for anyone who can lend a hand, sign up here.
Focused on the Community
woom bikes partners with more than a dozen nonprofit and charitable organizations around the country. At this event, we're promoting community awareness and support for Helping Hand Home, an Austin-based childcare agency that is a safe haven for children healing from abuse, neglect or abandonment. At the festival headquarters on Friday at 11 a.m., woom will present six new woom bikes to the center. woom is proud to share the love of riding a bike with all children.
The nonprofit Ghisallo Cycling Initiative will participate in the event as well, supporting riders during Saturday's Manzano one-mile and 0.5-mile bike rides. Ghisallo staff will also lead two youth group rides for ages 6-12 on Saturday through the scenic Lady Bird Lake and downtown area.
Austin Youth Fitness will join the Friday afternoon event, with a group of young riders participating and leading a group ride along Lady Bird Lake. The family bike ride will take a scenic ride around the downtown lake area. On Saturday, AYF experienced youth group ride leaders will lead additional family ride events.
Throughout the weekend, kids and families will have a chance to meet up with bike-racing pros (who also happen to be parents as well and, between them, have five kids on woom bikes). Former pro road cyclist and British National Road Race Champion Kristian House will headline woom's lineup, leading group rides on Saturday. Former National Criterium champion David Wenger will attend the Sunday event and support bike activities at the finish line. Former pro road cyclist and woom writer Kat Hunter will assist with the family ride on Friday.
Read more about the launch of woom's family festival: https://us.woombikes.com/blogs/news/local-bicycle-company-launches-family-festival.
Join our Facebook event page for more updates: https://www.facebook.com/events/233444397575806/.
About woom bikes USA
A family owned and operated business offering light-weight and high-quality bicycles for children of all ages. woom's attention to detail sets the company apart – from the carefully selected materials and commitment to safety and performance to the first-of-its-kind Up-Cycle program, woom is changing the paradigm of youth cycling. When it comes to the needs of a child, a woom bike is unmatched. Eighty-five percent of the bike parts are individually developed and produced exclusively for woom. The bikes are tailor-made for the child's anatomy and needs. With the never-ending development and research, woom has succeeded in making the woom bike 40 percent lighter than a conventional children's bike. woom bikes are designed and developed in Vienna, Austria. woom USA was born in 2014 with the desire to bring the same high-quality and light-weight bike models to families in the United States. The North American operations are in Austin, Texas. For more information or to make a purchase, visit us.woombikes.com or contact dave@woombikes.com or call 855-966-6872.
About Buddy Pegs Media
Buddy Pegs Media is a children's media company based in Teton Valley, Idaho, that is focused on helping parents connect with their children through bicycling. The central characters of the Buddy Pegs books and podcasts are bike-riding dogs and cats who run a local bike shop and inspire all the animals in their fictional town of Spokesville to get out and ride. Since 2015, their children's storybooks and storytelling podcasts have captured the hearts of U.S. families and the support of key partners. "Buddy Pegs" is an '80s throwback reference to the pegs kids put on the back of their bikes to bring friends along for a ride. Scott and Jannine Fitzgerald chose the name to symbolize their desire to bring others "along for the ride."
About the Austin Marathon
The 28th Anniversary of The Austin Marathon, Half Marathon and 5K will fill Austin's streets on Feb. 17, 2019. The weekend-long event begins with over 75,000 visitors to the Health & Fitness Expo, followed by 17,000 runners on race morning, concluding with an Austin-style Finish Line Festival complete with 100,000 spectators, live coverage to over a million viewers and a rocking band and beer garden.

Photos, Logos and Event Poster can be found here.
Source: woom bikes USA
Related Media
Additional Links