Excel Education Systems Announces Launch of Learn Stage 3.0, Enhanced Learning Management System, and Student Information System
Press Release
•
Sep 11, 2023
Introducing Learn Stage 3.0: A Revolutionary Update to Excel High School SIS/LMS Designed to Enhance Real-Time Course Progress Tracking, Billing Management, and Overall Improvement on User Experience.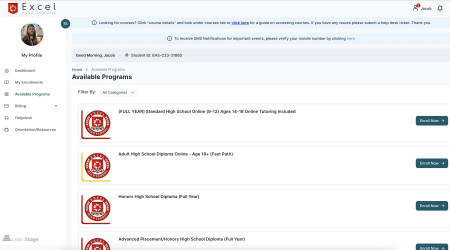 MINNETONKA, Minn., September 11, 2023 (Newswire.com) - Excel High School is thrilled to announce the launch of its updated Student Information System (SIS), Learn Stage 3.0. The new developments mark a significant stride forward in educational technology for the institution and its students. As a leader in online education, Excel offers a personalized and comprehensive approach to online learning. Known for its commitment to academic excellence and technological innovation, the school continuously seeks ways to enrich the learning experience and better serve its diverse student body.
Why The Upgrade? Aiming For Excellence
With an unyielding commitment to innovation and student success, Excel High School is setting the benchmark for what an online educational platform should be. The enhanced Learn Stage 3.0 system is a culmination of thoughtful design, resource investment, and dedication to ensuring a top-notch user experience for both students, parents, and stakeholders.
"We are committed to offering our students an enhanced, intuitive, and seamless learning experience. With Learn Stage 3.0, we've reimagined how students and parents interact with our learning platforms. Users can get real-time updates on course selection, progress, tuition, reporting, records, schedules, graduation planning, and more," said Rod Clarkson, CEO of Excel High School. "Learn Stage 3.0 isn't just an update; it's a revolution in how we approach online learning."
Future-Ready Education for All
The revamped Learn Stage 3.0 offers students and parents real-time information about course progress, and billing, and presents a fresh, easy-to-navigate user interface. The platform has been developed to meet the diverse needs of Excel's student body and aims to be intuitive while offering a broad range of functionality.
Learn Stage 3.0 aligns perfectly with Excel High School's ongoing passion to offer every student a future-ready, personalized learning experience. By continually updating and refining our learning platforms, Excel ensures users have access to the very best digital tools to facilitate learning. As the academic landscape shifts towards digital engagement, Excel High School remains at the forefront, ready to adapt and innovate. Excel has made a video demonstration available that provides students with an in-depth look at this enhanced system.
About Excel High School
Since 2005, Excel High School has delivered high-quality, accredited, online K-12 and adult high school programs. The cornerstone of the Excel program combines personalized learning pathways with a flexible schedule, guided by highly qualified instructors and supported by an award-winning curriculum. This comprehensive approach is enhanced by user-friendly technology and enriched by a diverse online learning community. For more information, call 800-620-3844 or visit https://www.excelhighschool.com. Excel High School is a division of Excel Education Systems, Inc., a global leader in online education.
Source: Excel High School
Related Media