EV's Today Announces Debut of New Class 3 and 4 Electric-Powered Cargo Trucks
Press Release
•
updated: Apr 16, 2019
New technology is changing the way fleet operators think about efficient fleet transportation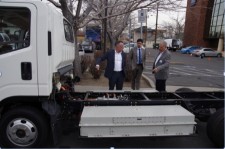 REDWOOD CITY, Calif., April 16, 2019 (Newswire.com) - ​​​​​​​​Electric-powered vehicles are the future. Clearly, the merits of electric vehicles no longer need to be spelled out to the public, who are well aware of the capabilities and benefits of electric propulsion. Most individuals who have driven electric-powered vehicles are completely sold on this technology and many believe it will make the biggest impact to achieving efficient and clean transportation. Recently, there has been a wave of excitement over electric-propelled vehicles for commercial use. Grabbing the biggest headlines, however, are electric-powered school buses, the most successful and practical execution developed by Blue Bird and Adomani Electric. These vehicles are changing the way school district fleet operators look at student transportation.
"But what may not be well known to fleet operators are the newest electric-powered cargo Class 3 and 4 vehicles, which deliver high efficiency and a real-world solution for fleet operators looking to reap the rewards of a totally electric truck lineup," stated David Cox, marketing director for EV's Today. "The newest trucks, developed by Adomani Electric, can travel 200 miles on a single charge (vehicle payloads and sub-zero temperatures will have an effect on range). These trucks are well equipped to handle the daily travel requirements demanded for most fleet operators."
Currently, electric-powered Class 3 and 4 trucks (either a cutaway that is easily adapted to meet many industry needs or a van suitable for delivering anything from cargo to passengers) can be driven through appointment by interested parties. Recently, transportation directors and staff participated in Ride-and-Drive events in Pittsburgh and San Jose, Fremont and Twin Rivers Unified School Districts in California. Electric-powered vehicle manufacturers, like Adomani, are currently scheduling more Ride-and-Drive events in both Southern and Northern California as well as Nevada and Class 4 trucks are expected to be ready for public review in the near future.
Added EV's Today's Cox, "The benefits of these vehicles are vast. Electric-powered Class 3 and 4 trucks eliminate all fossil fuel requirements along with the pollutants associated with internal combustion engines. As fleet managers are well aware, the volatile nature of changing fuel pricing can drastically affect operating costs. In addition, vehicle maintenance requirements are drastically reduced through the elimination of oil changes, tune-ups and general internal combustion engine challenges."
When fleet managers equip their home base with an electric-power-compatible charging system, vehicles will be fully charged each morning, avoiding the labor required to send them to a fueling location. Additional quick charges during the day, should a vehicle be required to travel further than the specified range, can be completed at the home base or in the field at any number of local charging facilities along their delivery route. In most cases, however, no boost charge will be needed due to the impressive range of these vehicles.
According to EV's Today, electrified vehicle systems deliver years of service with minimal maintenance. As noted, fleet managers are no longer tethered to changing fuel prices and environmental "political" pressures to reduced carbon emissions – a problem that will only increase in coming years. A simple yet highly efficient solution for businesses around the world, vehicles like Adomani Electric's Class 3 and 4 trucks are the way of the future in cargo transportation.
EV's Today will attend the upcoming ACT Expo show (April 25-27, Long Beach Convention Center, Long Beach, California), where products from Adomani, Cummins and others will show off their latest electric-powered vehicles.
​​​For more information contact:
David Cox
​Marketing Director

Phone: (408) 384-9302
​Email: davidc@evstoday.com
Source: EV's Today