EvGateway and InterEV Partner to Provide Premium Electric Vehicle Charging Solutions for Israel & Europe
Press Release
•
Feb 16, 2023
Collaboration enables tailored charging solutions for all types of customers and requirements.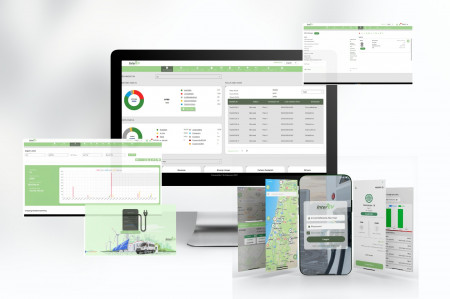 ROSH HA'AYIN, Israel, February 16, 2023 (Newswire.com) - InterEV and EvGateway have announced their collaboration to offer turnkey EV Charging Solutions to Israel and European markets. The turnkey charging solution offers a range of AC and DC hardware, charging management technology, and support to meet all charging needs.
Convenient access and ease of use are essential to making drivers feel comfortable in choosing to buy an electric vehicle. InterEV's vision of building a network of EV users and stakeholders on one platform to help them make a seamless shift to sustainable electric mobility matches EvGateway's mission of helping to reduce global CO2 emissions by accelerating the adoption and use of Electric Vehicles in countries around the world. This partnership will help in expanding EvGateway's global presence by providing customers in Israel with best-in-class EV Charging Solutions.
The InterEV & EvGateway collaboration provides intelligent and advanced EV charging management services for customers of all industries and varied charging requirements. EvGateway has developed a custom, dedicated solution that allows the InterPlus Group to operate and manage thousands of charging stations in Israel and Europe.
By combining the charger management features (such as OCPP & OCPI functionalities, web portal, demand response capabilities, driver-facing mobile app, smart charging, and fleet management services, etc.) with the ability to integrate with EV vehicles, energy management systems and telematics functionalities, the team will bring to the Israeli market the most efficient and innovative EV solutions in the industry. The multi-lingual App for EV Drivers supports Hebrew and English, Deutsche, Dutch, and soon Arabic, with the capability of supporting additional languages as InterEV's charging network expands to international markets, making it a perfect example of "Think Global, Act Local."
EvGateway's extensive experience in launching charging networks across the globe provides an offering for the seamless management and operations of all chargers so owners and operators can remotely manage, control, and have visibility into real-time performance analytics and statistics. The EvGateway network makes it simple for users to operate and customize EV Charging to meet their specific requirements.
"Our Mission Is No Emission"
Mr. Moshe Lellouche, CEO, InterEV, said, "The partnership with EV Gateway allows us to expand our footprint in Europe and Israel by supporting us with our eMobility needs."
Speaking about the expansion, Mr. Reddy Marri, President, EvGateway, said, "It is indeed a moment of pride for us that we are finally bringing our product in Hebrew to Israel and contribute to its EV initiatives. Our Global experience of integration of various technologies like Telematics, V2G, Payment gateways, OCPI roaming between networks, and Load optimization into our SAAS platform, enables us to provide effective solutions to clients of all sizes and adapt to every changing scenario. A parameter-driven approach enables us to onboard clients with minimal effort."
About InterEV
InterEV is a Multinational EV charging solutions provider with the complete range of AC & DC fast chargers connected with a smart charge point management platform and a Mobile App. As part of the InterPlus group operating in Israel, Netherlands and Germany (with more EU countries to come soon), our vision is to enable green energy solutions for a better future. Our range of solutions covers public, semi-public and residential sectors as well as public transportation and bus terminals.
For more information, visit www.interev.co.il or www.interplus.co.il or email info@interev.co.il.
About EvGateway
EvGateway is a hardware-agnostic Electric Vehicle Charging network that provides turnkey, customizable solutions to the end customer regardless of their requirements and charging needs. Our charging management network offering includes white-label software development, mobile app and 24x7 support for the EV Charging stations. We partner with some of the world's leading companies to make charging convenient.
For more information, visit www.evgateway.com or email sales@evgateway.com.
Source: EvGateway