EveryPig App Now Incorporates Machine Learning
Press Release
•
updated: Nov 1, 2017
Pig Health App Continues to Bring Innovation to Pork Production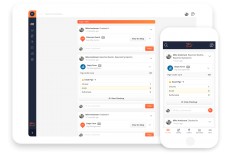 MIAMI, November 1, 2017 (Newswire.com) - CDB Technologies, LLC is pleased to announce that EveryPig (www.everypig.co), an (AI-assisted) app that helps pig caregivers receive better healthcare from their veterinarians and monitor the health of their pigs, now incorporates machine learning. This new development will allow the farmers and veterinarians using the app to leverage data collection and machine learning models to identify illnesses and recommend potential remedies for the pigs under care. Over time, this technology will bring an unprecedented degree of insight to the pork industry regarding the care and health of pigs. Because the actual people who physically visit the pigs every day are the ones reporting, EveryPig's founder believes that the platform will be an ideal tool to provide fast recognition of domestic and foreign disease outbreaks, which could affect the multibillion-dollar pork export market. In the one year it has been in use, EveryPig has already grown to have 500 active users including many pork production and swine veterinary management companies representing over 1,000,000 pigs under care, without a focus on sales.
On the app, farmers who raise pigs enter daily health information regarding the animals and receive real-time responses from veterinarians, often hundreds or thousands of miles away. Reported symptoms, photos and videos straight from the farm are available on the platform's Farmfeed™ where veterinarians are ready to respond. The Farmfeed helps veterinarians to address outbreaks and diagnose illnesses correctly, faster and more efficiently and communicate directly with the farmers.
EveryPig was started in 2016 as a result of an industry insider's frustration over the lack of technological advancement in pork production. After driving the growth of the business his father started from 30-350+ farms, EveryPig's founder, Chris Bomgaars, felt a calling to do more than continuing to grow the business. He wondered why in today's world, apps exist for almost anything we can think of, but none of them assisted farmers who care for animals that become our food. Bomgaars wanted to improve the way animals are being cared for and respond to consumer demands for more transparency around where their food is coming from. EveryPig does just that. Pig owners also win with the app because it saves pig lives through quicker veterinary response times to health issues, which saves them money. Within a week of its launch, EveryPig helped to detect a hemolytic E-coli outbreak early enough to save hundreds of pig lives. The next month a veterinarian monitoring the Farmfeed noticed abnormal symptoms on a farm and quickly diagnosed a case of Seneca Valley Virus, which likely would have gone undetected.
EveryPig's primary focus is providing its users with as much value as possible. To this end, the platform continues to provide as much insight into managing the health of its users' pigs as possible. To support this effort, according to Bomgaars, his near-term goal is to continue to leverage big data best practices and machine learning models to surface insights from the troves of data collected while pigs are under EveryPig's users' care.
Bomgaars commented, "I started EveryPig because it was the right thing to do. The opportunity exists because farmers and ag-businesses have been overlooked by Silicon Valley. We work with a very bright network of top swine veterinarians, field managers, and caregivers and their input drives us. Artificial intelligence has always been the target. We aim to use AI to assist these veterinarians in making better decisions for the animals and the consumer who enjoys the product. We believe AI can and will greatly impact the way this industry operates and we intend to lead the charge. At the same time, we have focused on the UI/UX to ensure that the app was easy to use and speaks to the industry in their language. We've come a long ways, and it's going to be a long, fun journey ahead!"
CDB Technologies was founded in 2015 by Chris Bomgaars to bring innovation to animal care, particularly in the area of farming and food production. EveryPig is its first product, which was launched in September 2016. In one year it has grown to be utilized by a number of pork production and swine veterinary management companies representing over 1,000,000 pigs under care and has over 500 active users. EveryPig's team consists of the founder, a designer and six developers. Rather than sales, the team's current focus remains on improving their product.
Contact: hello@everypig.com
Website: www.everypig.co
Source: EveryPig
Tags
Additional Links