Every Now and Zen Press Releases Its First Book Entitled: Every Now and Zen ...On the Nature of Being and Becoming
Press Release
•
updated: Dec 5, 2018
Singer Ron Kaplan & Kapland Records Have Expanded Their Repertoire With the Addition of Every Now and Zen Press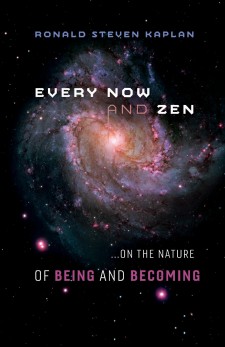 APTOS, Calif., December 5, 2018 (Newswire.com) - Singer Ron Kaplan and indie music label Kapland Records have expanded their repertoire into book publishing, generating Every Now and Zen Press, debuting its first book title release: Every Now and Zen... on the Nature of Being and Becoming.
After celebrating the 20th anniversary of Kapland Records, singer Ron Kaplan's Independent Record Label in 2017, and after 15 years as executive director of the nonprofit American Songbook Preservation Society, the singer decided to diverge into another direction entirely, to encapsulate the accumulation of 45 years of thoughts, discussions and inquiry as to the nature of being, becoming, and completion, which happen to comprise the three chapters of the book.
Singer Ron Kaplan & Kapland Records Have Expanded Their Repertoire With the Addition of Every Now and Zen Press

Author Ronald Steven Kaplan, president Kapland Records
Containing over four decades worth of rumination, discussion and personal experiential revelations, Every Now and Zen …on the Nature of Being and Becoming imparts nuggets of wisdom (or folly), sprinkling them as "Cosmic Breadcrumbs" for the reader to follow on the path to becoming. Inspired by the classic "Be Here Now" by Ram Dass and written in the spirit of leaving an anecdotal artifact of personal existence, Every Now and Zen represents the fruits of explorations into the nature of being and becoming, and methodology for completion. These thoughts are stated in the most condensed manner as "bite-sized" meditations to consider and digest repeatedly, along with a layout artfully created to become a part of the experience.
Available now in Print & EBook online from Amazon, Barnes & Noble, Google Play, Kobo, and in partnership with publisher Bookbaby.
Contact: Every Now and Zen Press
Tel. (831) 687-0278
Email: ronaldskaplan@gmail.com
Source: Every Now and Zen Press
Tags
Additional Links