Evergreen Consumer Brands Discusses a Formulation for Success
Evergreen Consumer Brands has been recently featured on First West Capital's website to discuss their latest partnership.
Press Release
-
updated: Oct 9, 2018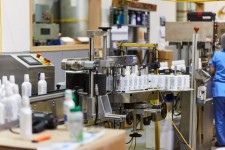 BRAMPTON, Ontario, October 9, 2018 (Newswire.com) - In an industry that faces constant margin pressure and competition, Brampton, Ontario-based Evergreen Consumer Brands has formulated a strategy that has allowed them to thrive in the retail landscape. As a manufacturer and distributor of premium value personal care products, Evergreen has been able to capitalise on the demand from retailers such as dollar stores. The business is also a lucrative platform for acquiring brands that complement its distribution channels and customers—giving it a competitive edge and strong foothold in the growing value retail channel.
Evergreen recently partnered with First West Capital for the second time to finance the addition of two new synergistic brands to its portfolio, Salon Selectives and Daily Defense, which fit perfectly into its distribution model and brand strategy. "Acquisition is key to making our business efficient and competitive. We have control over the process from design to distribution and have a growing portfolio of brands to serve the value channel," explains Bruce Friedman, co-CEO at Evergreen. "It ultimately helps us provide a better value proposition to retailers and consumers."
Bruce says that great financial partners are crucial to executing on their strategy. "We were 100% certain that we'd work with First West Capital again as our junior capital provider. We've built a great partnership with David and the team in Toronto, they really understand our business and capital structure," he says.
First West Capital first provided Evergreen financing to facilitate a management buyout in 2016, which allowed them to buyout a retiring owner without compromising cash flow and capital in the business.
Thanks to a strong long-term working relationship, Bruce could rely on Managing Director, David Hastie's intimate knowledge of the business for assessing the deal's strategic fit and providing financing expertise. "David recognised right away that this was a great opportunity for our business and facilitated a seamless deal for us."
First West Capital provided subordinated debt to facilitate the acquisition with a flexible repayment structure that allows Evergreen to ramp up its production and realize the synergies of combining the businesses. First West Capital also referred Evergreen to a new senior lender who provided an operating line of credit for ongoing working capital needs and a term loan to facilitate the acquisition.
He adds, "Cultivating strong relationships with our retailers, suppliers and financial partners like First West Capital, allows us to continue to scale the business effectively. Great partners make all the difference."
"Evergreen consistently looks for smart ways to improve and streamline the business: they're really good at identifying valuable opportunities to grow. They've positioned themselves as leaders in the industry," says David. "We like working with businesses that value relationships with all of its key stakeholders and that are able to execute on its strategic vision. We're proud to continue to support Evergreen's acquisition and overall growth strategy."
With a growing portfolio of brands, Evergreen plans to focus on marketing and expanding its retail network. It expects to see continued growth in the value retail channel, due to the squeeze on mid-market retailers like Sears. "We see lots of opportunities to extend into the value-based retail market. We're also excited to better understand new media and how to communicate with our end-user, its new territory for us," says Bruce.
For more information on this topic or to schedule an interview with Jack Wilkinson, Bruce Friedman or Steve Immel please contact:
Sue McCabe
Tel: 416-691-3697
Email: sue@evergreen-brands.com
Source: Evergreen Consumer Brands, Inc.
Share:
---
Categories: Business News, Business
Tags: Acquisition, Evergreen Consumer Brands, first west capital
---