Event Farm Releases First-Ever 100 Percent Texting-Based Attendee Engagement Suite
Press Release
-
updated: Nov 29, 2018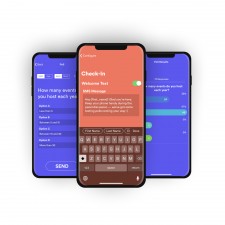 SANTA MONICA, Calif., November 29, 2018 (Newswire.com) - Today, Event Farm, the leading experiential marketing platform used by dozens of Fortune 1000 companies, announced a suite of text messaging solutions for in-event attendee engagement.  
"As a company that's always looking for ways to authentically engage attendees, we're constantly studying changes in human behavior, specifically in the ways we communicate," Ryan Costello, CEO and co-founder of Event Farm, said. "The way we communicate, especially when we want to share important information quickly, has changed. We're building tools that make it easy to quickly communicate and engage with attendees."
With the release, five new SMS texting solutions are available for event and experiential marketers:
One-to-many or 1:1 texting for event organizers to communicate with attendees
Welcome texts triggered upon event check-in
Live polling conducted through SMS communication
Photo, link-sharing and other content delivery
AI-assisted attendee team-building to help attendees make connections they would otherwise miss out on
The texting features are integrated with Event Farm's registration platform, allowing organizers to fully leverage the infrastructure already in place for their events. All of the texting solutions are housed under a new Event Farm app, "EFx," which is available for event organizers to download and is designed to facilitate and scale in-event engagement. On the attendee side, there is no app to download. They just receive and reply to text messages as normal, and they can opt-out at any time.
Event Marketers: Say Goodbye to In-Event Emails
According to Gartner, the average email open rate falls at just 20 percent, a number made even less impressive by an average open rate of 98 percent for text messages. Cellular Telecommunications Industry Association (CTIA) also reports an average email response time of 90 minutes, compared to an average text response time of just 90 seconds.
With the launch of Event Farm's texting solutions, event organizers are able to easily make the most of text messaging as a high-engagement channel.
"We knew engagement was going to be high because text messaging has become such a natural and expected form of communication," Costello said. "But so far we're seeing over 90 percent of attendees engage with this technology at events and we're just blown away. The fact that event producers can easily engage in real time with their attendees via text is a game changer."
Building on the Event Farm Infrastructure for Strategic Communication
The silver bullet of the SMS functionality is its full integration with Event Farm's registration platform and check-in app. For example, the integration makes it possible to automatically and immediately trigger a welcome text when a guest checks in on Event Farm's app, or to ensure that in-event messages reach only the guests who are in attendance, bypassing those who may have registered but don't attend.  
As part of the announcement, Event Farm is hosting its own virtual event. Anyone who registers will be able to experience the texting engagement suite from the attendee perspective. Learn more and register here: dobetterthanemail.com.  
About Event Farm
Event Farm powers attendee engagement before, during and after events. With its quickly evolving set of event management and experiential tools, dozens of Fortune 1000 companies use Event Farm to provide on-brand guest registration experiences and first-of-a-kind, in-event engagement activations. Learn more at eventfarm.com.
Media Contact:
Ryan Costello
Phone: 202-550-1933
Email: ryan.costello@eventfarm.com
Source: Event Farm
Share:
---
Categories: Event Lighting, Sound, Sets, and Production, Marketing
Tags: business technology, event marketing, event technology, experiential, experiential marketing technology, experiential technology, marketing, marketing technology, texting
---