Eva-Dry Releases the EDH-85 Hygrometer to Their Product Line
Press Release
-
Oct 27, 2016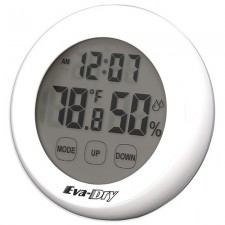 Tampa, FL, October 27, 2016 (Newswire.com) - Eva-Dry, a leading manufacturer of compact dehumidification systems, announces the launch of the EDH-85 Hygrometer, which measures the relative humidity of an area both quickly and accurately.
Knowing the humidity levels in a space is essential to combat excess moisture in an environment. Once you know the conditions, you can select the best dehumidifier, allowing you to regulate your home for maximum comfort. Eva-Dry's Hygrometer provides an accurate and easy read of the relative humidity of any area at a glance. The compact size and stylish design of this unit make it ideal for a wide range of uses, including (but not limited to): gun safes, greenhouses and grow rooms, wine coolers, humidors, collectible storage, and instrument storage.
The Hygrometer has a touch screen display that shows the indoor humidity (%RH), indoor temperature (F/C), and the time. Powered by two AAA batteries, the Hygrometer is easy to operate and read. Another convenient feature is the unit can be free-standing, hung up or affixed via its magnetic back for optimal placement around your household.
Eva-Dry Vice President, Ken Judd commented, "The Hygrometer is the perfect addition to the Eva-Dry product line. It's simple to use and provides real time feedback on humidity levels in a space for peace of mind in any environment."
Stop guessing what the humidity levels are in your home. With the Hygrometer by Eva-Dry, you can easily get a reading on the relative humidity conditions in your home. It is the perfect household device to keep you and your family's living conditions ideal.
About Eva Dry Dehumidifiers
Since 2003, Eva-Dry compact dehumidifiers have earned their reputation as the safest, healthiest and most efficient method to reduce ambient moisture by providing a higher absorption rate than alternate disposable dehumidifying products. The compact, renewable Eva-Dry units reduce humidity to fight mold, moisture and mildew in homes, boats, RVs, safes, and other valuable item storage. Visit www.eva-dry.com, or call (877) 382-3790 for more information.
Source: Eva-Dry
Share:
---
Categories: Gardens and Landscape, Hunting and Fishing, Home
Tags: eva-dry, greenhouse dehumidifier, gun safe dehumidifier, home dehumidifier, household dehumidifier
---