Ethos Partners With Voyager Digital to Develop New Crypto Trading & Purchasing Platform
Ethos' 100,000 Wallet Holders Benefit from Best Execution, Funding Fiat Deposits
Press Release
-
updated: Sep 27, 2018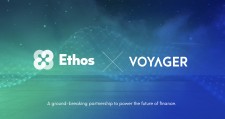 SINGAPORE, September 27, 2018 (Newswire.com) - Voyager Digital Holdings Inc. ("Voyager"), a new and licensed crypto-asset broker, and Ethos.io PTE LTD ("Ethos"), a leading cryptocurrency services provider, today announced a strategic partnership to bring Crypto-to-Fiat and best execution trading to Ethos wallet users, while enhancing self-custody and wallet solutions on Voyager's retail and institutional platforms.
The link-up adds optimal self-custody and wallet functionality to the Voyager platform to provide a single and secure hub for the storage and trading of crypto assets. Similarly, the partnership allows current Ethos wallet users to seamlessly convert, store and trade their digital assets all on one platform, simplifying a currently complex and cumbersome process.
Voyager will be utilizing Ethos Bedrock as a self-custody option and integrating it, along with the Ethos Universal Wallet into its offerings -- which include the best execution, data and custody services. Voyager previously announced that its retail, mobile trading app will be launched in Q4, alongside Voyager Institutional, its standalone solution for the buy-side, brokerages, market makers and other professional investors.
Voyager will give Ethos users the power to convert fiat currency into the Ethos Token and the token into fiat, all within their wallet, allowing a seamless mechanism to trade through Voyager's platform.
Stephen Ehrlich, CEO of Voyager, said: "With this transformative partnership in place, we believe we are offering the first end-to-end, fully integrated solution in the crypto asset space.
"We are always seeking out products and solutions that enhance the experience for crypto investors and these best-in-class solutions from Ethos are a perfect complement for us, further strengthening our offerings and goal of operating a unique, pure-play, open architecture platform."
Shingo Lavine, CEO of Ethos, said: "Voyager gives our users the power of fast, commission free trading, using their smart order router and liquidity network. For Ethos Universal Wallet users, this means that a low-fee fiat gateway will be a future enhancement, first for our U.S. clients and then rolled out globally."
Shingo Lavine will be joining the Voyager Advisory Board to oversee the execution of the integration of the partnership, as well as support Voyager's overall mission.
"This partnership creates a true bridge between traditional and institutional finance within the crypto-asset market to create a dynamic and borderless financial ecosystem," Lavine added.
About Voyager Digital
Voyager Digital Holdings Inc. (Voyager) through its subsidiary, CryptoTrading Technologies, LLC is a crypto-asset broker that provides retail and institutional investors with a turnkey solution to trade crypto assets. Voyager offers investors best execution, data and custody services through its institutional-grade open architecture platform. Voyager was founded by established Wall Street and Silicon Valley entrepreneurs who teamed to bring a better, more transparent and cost-efficient alternative for trading crypto-assets to the marketplace. Voyager is based in New York and is registered with FinCen. https:// www.investvoyager.com
About Ethos.io PTE LTD
Ethos is a leading cryptocurrency services provider that is building a bridge between the blockchain and existing financial institutions and systems. The Ethos Universal Wallet enables anybody to simply and securely store, track, send and receive their crypto assets for free. The Universal Wallet is decentralized, with consumers creating and owning their own private SmartKeys that secure personal digital vaults. The Universal Wallet is built on Bedrock, a foundation platform that abstracts and makes blockchains more accessible, secure and compliant for both people and financial institutions. Ethos has built a blockchain dream team of financial and technology executives. Ethos is headquartered in Singapore with a global presence and community. Learn more at ethos.io
Media Contact:  Amateo - Executive Marketing Director of Ethos - amateo@ethos.io
Source: Ethos.io PTE LTD
Share:
---
Categories: Cryptocurrency, Finance
Tags: best, blockchain, coin, crypto, cryptocurrency, digital bedrock, ethos, simplex, universal, voyager, wallet
---